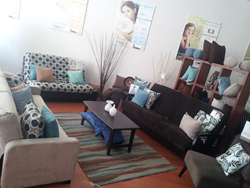 These Comfortable and healthy mattresses are offered at 50% less
San Francisco, Ca (PRWEB) December 01, 2014
The Futon Shop, an organic futon and mattress retailer and manufacturer, has released their 2014 Mattress Sale. The Futon Shop is the pioneer in green bedding and living room furniture. Futons and mattress consumers are searching more for green options and know they have options and are fully aware of the harmful chemicals that have been and still are in such products as beds and couches. With new laws set in place and the knowledge being put forth in the media and government to specifically omit fire retardants and toxins in furnishings, there are more organic and natural bedding shops popping up in neighborhood shopping towns and shopping malls. Designing clean chemical free mattresses since 1976, The Futon Shop is a great place to begin one's journey into greening a home. These comfortable and healthy mattresses are offered at great prices.
The Futon Shop hand makes each and every mattress, so come into the store or call online and any sales associate can help customize the bed or couch for any occasion. With over 33 options fitting anyone's comfort level, let 2014 be the year guests come for the holidays complimenting not only on the food and company, but also on the great couch and bed they were able to sit on and sleep on. Let this year be the year on splurging and making better decisions for family and the home.
About The Futon Shop
http://www.thefutonshop.com is a company based out in San Francisco, California. Futon mattresses, healthy beds, and organic bedding is made right in the factory by employees that have been their for over 20 years. Making futons mattresses since 1976, The Futon Shop has always focused on sustainable and green practices. The Futon Shop works together with local American vendors with the same goal in mind: inventing and pioneering the furniture world with eco-friendly products with the mission to build upon the movement of farm to bedroom. Specializing in green and organic mattress beds, futons mattresses, hardwood platform beds and sofa bed frames, modern couches, accessories, bedding, as well as green and organic futon covers, The Futon Shop is always creating and inventing new and better ways to provide healthy living options for their customers.