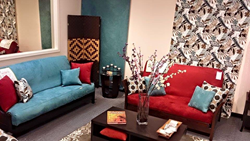 Celebrate 2015 Earth Day Today With The Futon Shop and Save Big On Their Chemical Free Mattresses Sale.
San Francisco, Ca (PRWEB) April 20, 2015
Celebrate 2015 Earth Day Today With TheFutonShop.com and Save Big On Their Mattresses Sale. April 22, 1970 marked the beginning of The Earth Day Movement and people stood up and walked together to make a change. Let's keep the movement going not just in the streets but also in our own homes. The Futon Shop celebrates Earth Day by discounting their mattresses with no chemicals sixty percent off.
The Futon Shop, a local manufacturer in San Francisco, has been making eco friendly organic and mattresses with no chemicals for over 35 years. 2015 brings two new categories to their of chemical free mattresses line.
The air in one's home is polluted with allergy prone products ranging from one's computer, television, and even from the furniture that has been dwelling in the home for years. According to Time Magazine, Jay Portnoy MD, directory of allergy, asthma and immunology at Children's Mercy Hospital in Kansis City, Mo. says that, "For one thing, climate change and rising carbon dioxide levels have created an environment that's more hospitable to the growth of allergens such as mold."
It is a scary time for parents with children with allergies. But The Futon Shop, an organic manufacturer and retailer, hand makes natural mattresses for sleeping and for sofa beds in San Francisco.
The Futon Shop's Mission is to maintain a high level of Eco-Consciousness to create a healthy future for our planet and for our customers. The Futon Shop take the time to think about the planet and what is best for their customer's by creating as many chemical free futon mattress options that are available.
The first category is the performance mattresses. The Celliant mattresses have ingredients in them that have been proven to increase sleep, help one recover faster and feel more invigorated. The Minerals used have been known to increase oxygen levels in the body and improve one's sleep quality.
The three new Celliant Futon Mattresses are the Theta, Delta, and Alpha Performance Mattresses. These three mattresses have ingredients that have been tested by leading experts in medicine, physics, and biology. Also, these scientists have been dedicated to research and have found that Celliant fiber has special minerals that last a lifetime and is powered by one's metabolism. One's own body recycles and converts the body's heat into a measurable boost, and most importantly they are natural.
The second category of mattresses is the coconut Coir Mattresses. These mattresses are a great alternative to memory foam if one cannot handle the heat that often can be felt while sleeping on memory foam mattresses. The Coconut futon mattresses have premium ingredients and are on high demand because they take the moisture of the air and sweat when one sleeps at night and does not hold in the moisture. This process stops any chance of mildew, mold, or absorbing any dust in one's mattress. The coconut mattresses are a great new line of organic mattresses made right in San Francisco.
About The Futon Shop:
The Futon Shop is a vertically integrated retailer that manufacturers over 33 organic and green mattresses from start to finish. The company dates back to 1976 led by Suzanne Diamond and her team of specialists dedicated to producing eco friendly furniture and bedding. Their mission is to produce the best eco-friendly, Organic and Natural futons, organic futon mattresses, futon covers for sofa beds, futon frames, and platform bed frames that promote better healthy living and a good night's sleep for all.