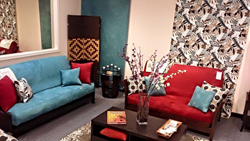 San Francisco, Ca (PRWEB) September 22, 2015
The.Futon.Shop.com Offers New Designs In Futon Covers For Their 2015 Fall Sofa Bed Collection. It is that time when guest lists are being created for the upcoming holiday season. Whether it is time to revamp a room with new trending theme or decorate a room for the first time, the primary focus and key is the color that is chosen for complete home decor success.
The latest in 2015 fall designs from HGTV has shown a few hot trends such as: bold blues, hot neon green or red with a white or white and black background, gold with blue combo, the new Greige, bringing in textures and modern designs like circles and geometrics.
The Futon Shop always look at new trends and offers an amazing selection of fabrics for futon sofa beds that can be washed or changed out for a new-refreshed look at a later date. The Futon Shop's pattern selection has added many geometric futon covers designs in colors bold green and orange, warm bronzes patterns and fabrics, as well all a few selected grey designs as an addition to their futon covers line up.
The Futon Shop's Organic Futon Cover line has added bold plain colors and a few modern patterns to mix and match selection have been added. The Futon Shop customizing all their chemical free mattresses and organic and green futon covers in San Francisco, which gives customer complete flexibility when designing their home.
TheFutonShop.com has all the color selections available on their website and can be purchased online or step into any of The Futon Shop California locations for a new futon sofa bed with assistance from a Futon Associate.