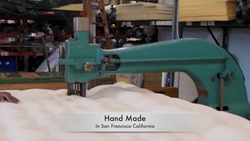 Over the last year or two, The Futon Shop team has developed an exquisite line of non-toxic mattresses like no other mattress industry.
San Francisco, Ca (PRWEB) November 10, 2015
The Futon Shop, a San Francisco manufacturer that specializes in quality non-toxic futon mattresses, names their November Top non-toxic Mattress for their Veteran's Day Sale. According to NBC, a new survey from the Department of Agriculture reveals that Americans are buying more organic food. And even more enlightening in the same article claims that American consumers spent $5.5 billion last year on organic food with California leading the country in organic food sales. This might explain the success shown at The Futon Shop, a local futon mattress manufacturer in San Francisco California. The Futon Shop has noticed a huge supply and demand with their chemical free futon mattress selection.
What The Futon Shop sale staff unanimously say about their customers is that they pick the organic option and they are grateful for the education they are given about toxins in the home. This fact primarily has made The Futon Shop's job easy when it comes to researching and adding ingredients to their line of futon mattresses. The Futon Shop makes each mattress by hand in San Francisco, but when it comes what to put in their mattresses, it all depends on the choices of vendors that are available. Over the last year or two, The Futon Shop team has developed an exquisite line of non-toxic mattresses like no other mattress industry and have partnered with vendors that have been certified and dedicated to sell products that have no toxins.
What makes The Futon Shop different? It really matters what's inside the mattress. With 11 stores and The Futon Shop's online website, the requests for mattresses without chemicals are abundant. One of the most popular mattress asked for has been the Ecopure Futon Mattress. There are only two ingredients in the mattress: latex and wool. The wool acts as a natural fire retardant and the certified organic latex gives great back support. The EcoPure mattress is The Futon Shop's Featured futon mattress in their mattresses line without any chemicals. Customers like the comfort level because it acts as a relaxing couch to sink into, yet as a bed it gives the right amount of support with the thickness and durability from the latex. All ingredients are safe and certified and it is unique in the mattress industry.
The Futon Shop's futon mattresses without chemicals selection is non-toxic with no hidden dangers inside. There are are no pesticides in the cotton, no petroleum filled foams, no chemicals in the latex, no flame retardants that are harmful, and no added box springs with chemically treated in the wood or chemical adhesives. The Futon Shop's flame retardant in their non-toxic futon mattress selection is wool, an ingredient that is not treated with any harmful chemicals.
According to ConsumerReports.org there are a few important steps to cover when buying a mattress. Size, destination, firmness, and sales are part of the game, but comparing what is inside when shopping around can get a little tricky. The Futon Shop is a great option when it comes to getting answers cleared up because they actually make their mattresses in San Francisco by hand and have complete control what goes in each organic mattress. Huge mattress companies with big brand names have samples in their store, but often the sales staff have no idea the ingredient or access to finding an accurate answer for their customers. The Futon Shop has mattresses to try, but they also offer tours at the San Francisco factory to see how each mattress is made.
Customers can come into 11 California stores or can view The Futon Shop's discounts and ingredients of mattresses here: http://www.thefutonshop.com/