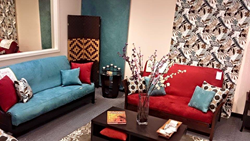 san francisco, ca (PRWEB) February 16, 2015
Local organic mattress manufacturer and retailer, The Futon Shop, reveals new research on sleep and warns against dangerous red flags.
According to The National Sleep Association, a two year study revealed December 2014 showing that adults need 7-9 hours. But what happens when you wake up from sleeping and you feel drunk? Time magazine recently published last August 2014 article "Are You Getting Drunk-on Sleep" in a special science magazine. The article presents many intriguing questions and findings that pose red flags for bigger health and mental problems. According to the article, a recent published study from Journal Neurology, Sleep Drunkenness is defined as a person's difficulty waking up, with other symptoms such as challenges becoming fully awake, intense confusion and disorientation and sometimes amnesia.
We can all recall sometime in our life when we did something humiliating upon waking up like jumping into the shower with our socks on, pressing that snooze button 15 times and then wondering why we were late for work. But could this be a precursor or a sign that there are other problems that could be occurring? The article interestingly revealed that researchers from Stanford University of Medicine interviewed 19,136 people 18 and older that said yes to the feeling of drunkenness upon waking up with associated problems such as: sleep disorders, mental health disorder, or antidepressant usage. Researchers concluded that if people are having a sleep drunkenness feeling upon waking, then it could be a red flag for other issues.
It is not always possible to control the physical and mental challenges in one's life, but it is possible to control environmental surroundings. Picking the best mattress to sleep on comes into play when controlling what factors are in the home and in one's environement. The issue surrounding organic furniture has become a more popular trend and there are volumes of studies showing the dangers of sleeping and living in homes with chemicals like petrochemicals, pesticide, glues and fire retardants found in mattresses that can cause insurmountable problems for one's health.
Choose an organic futon mattress that has at least 8 inches of thickness to it and always ask the company or sales person about what is inside the mattress. The Futon Shop, a local San Francisco futon manufacturer and retailer, has been the leading organic futon company in America since 1976. They specialize in over 33 futon mattresses and each one caters to a different feel, comfort, and budget priority. The Futon Shop has over 10 stores and one website offering shipping across the USA within days because they make their own mattresses right in the heart of San Francisco. Choosing a mattress is an important part of taking care of oneself and choosing organic is the best choice for one's health and for the environment.