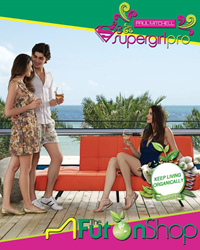 It is all about promoting healthy living options on any budget.
San Francisco, Ca (PRWEB) July 22, 2015
Everyone is invited to come to Supergirl Pro Surf Contest in Oceanside this weekend July 24-July 26, a free event and join in The Futon Shop's raffle contest. The Futon Shop will be there with three booths representing organic furniture. Through out the contest there TFS will be holding three raffles, offering organic and chemical futon mattresses and more. There will be many prizes, but the biggest prize is an organic futon mattress with no chemicals.
Watch the largest female surf contest in the world this weekend at the Oceanside Pier In California. Who will be surfing? A few featured surfers are: Malia Manuel, Sarka Pancochova, Bethany Hamilton, Silje Norendale to name a few.
Supergirl Pro Surf Contest brings all walks of life, culture, age, and gender. Not only is there great entertainment and excitement with the surf contest, but on the sidelines, visitors get autographed signings, there is live music, speed painting, clothing, skateboarding, fitness classes, dance, sustainability, food, beer garden, celebrities and more vendors.
The three Booths will represent three different products. The first one will be at the VIP booth sponsored by Kona Brewing. Because of the popularity Kona Brewing Company brought to the festival surf contest last year, Kona Brewing Company has been brought back and The Futon Shop is part of the huge lounge area that will be set up on the sidelines of the surf contest.
The other two booths stand together with the mission to offer healthy options in home design. The first one will have furniture without toxins and is sponsored by B4BC, Board For Breast Cancer. And the other booth promotes organic furniture, featuring outdoor sofa beds.
Come join the crowds this weekend and have some fun in the sun. Keep living organically.
About The Futon Shop:
The Futon Shop has made it their mission to produce the best Eco-friendly furniture with organic alternatives to sofa beds, bed sets, modern furniture, organic futon mattresses, futon covers for sofa beds, futon frames, and platform bed frames. It is all about promoting healthy living options on any budget. The Futon Shop works together with local American vendors with the same goal in mind: inventing and pioneering furniture organically from farm to bedroom. The goal: to not bring pesticides, harmful fire retardants into one's home. The Futon Shop always finds a way to create new and better ways to provide healthy living options for their customers.