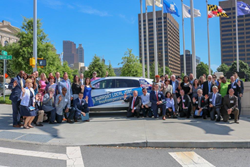 "The Buy From Georgia initiative is critical to the economic vitality of our state, and bringing awareness to our local manufacturers," said Jason Moss, CEO of the Georgia Manufacturing Alliance.
ATLANTA (PRWEB) June 26, 2019
The Georgia Manufacturing Alliance (GMA) and manufacturing leaders from across the state will kick off "Buy From Georgia Month" in July. This will be the 6th year that GMA has promoted manufacturers and the consumer-based goods they produce in Georgia. GMA's plant tour series in July will highlight these local manufacturers and the economic impact that they are having in their communities.
"Over 440,000 people are employed in the 10,000 manufacturing facilities in Georgia," said Jason Moss, CEO of the Georgia Manufacturing Alliance. "Countless jobs are directly impacted as a result of educating consumers about the importance of buying Georgia made products. The Buy From Georgia initiative is critical to the economic vitality of our state, and bringing awareness to our local manufacturers."
Jason Moss and his team will travel across the state in July to highlight name brands that people may see in the store each day and not be aware that these products are supporting Georgia's economy. Consumers and manufacturers alike are encouraged to participate in the Buy From GA plant tours. Click here to register for tickets:
Chick-Fil-A Headquarters Tour • July 8 • College Park
Our tour will be a true "behind the scenes look" at the Chick-Fil-A corporate headquarters including the fascinating history, culture, and values of Founder Truett Cathy. Attendees will be touring the:

Main Campus Building to see their flexible work/office design and History Museum
Kitchen Building to see their menu, new product, and packaging development space
Nest Building: Where they offer onsite training center for their Operators and Team Members.
Daniel Defense Plant Tour • July 9 • Ellabell (Savannah Area)
Founded in 2000 by President/CEO Marty Daniel, the company was born from his vision to create custom rifle accessories. His concepts have evolved into one of the most recognizable brands in the firearms, consisting of the world's finest AR15-style rifles, pistols, bolt action rifles, and accessories for civilian, law enforcement, and military customers and they produce 50,000-60,000 AR15 style rifles and accessories per year. Tour attendees will see their 300,000 sq. ft. modern manufacturing facility showcasing their advanced processes including Cold Hammer Forging, CNC Machining, Horizontal & Vertical Machining Centers, and Swiss Screw Machining.
Lane Southern Orchards Plant Tour • July 16 • Fort Valley
Tour the largest combined peach and pecan grower in the U.S., with 500 team members tending 11,000 acres throughout middle Georgia. The $4 million expansion to their packing facility has doubled capacity allowing the company to process 3 million cases per day. While every piece of fruit is still hand-picked and hand-packed, they have installed a customized gentle robotic bin handling system to streamline efficiencies. Their new addition also includes an expanded and improved cold chain within the facility, a high-efficiency sorting & grading technology system, enhanced LED lighting, and new shipping and receiving facilities.
West Georgia Corn Hole • July 17 • Winston (Morning)
Brandon Greba spent most Thursday nights building cornhole boards in his garage, filling orders whenever he could find some time away from his nine-to-five gig as an industrial supply sales manager. Two babies, 17 employees and thousands of orders later, they now ship products across the U.S. and aboard. With top-of-the-line designers and equipment purchases, including a UV Flatbed Printer and CNC Routers, he has expanded his range of products to feature LED lights and Bluetooth speaker boards, and a wide variety of tailgate games. West Georgia Cornhole is now capable of designing, building and shipping in six hours even landing a custom rush order for Golden State Warrior Stephen Curry.
Lamon Luther Furniture • July 17 • Villa Rica (Afternoon)
Featured on CNN, Bob Vila, and CBS, Lamon Luther is about building hope and creating opportunity for homeless carpenters. They achieve this by putting tools in their hands and allowing them to build the finest handcrafted furniture in the world. They take reclaimed wood from dismantled homes, barns and shipping pallets and turning them into beautiful works of art for the home and office. While custom home furniture is their specialty, they have done projects from the Mercedes Benz Stadium, Sun Trust Stadium, Krog Street Market and many more. The company is on pace to do a half-million dollars in sales this year -- using reclaimed wood to rebuild lives.
Thermo Pac Plant Tour • July 25 • Stone Mountain
Have you ever wondered who processes the single serving sauce packs, salsa cups, jelly and peanut butter packets for the food service industry? Themo Pac offers unique expertise in the processing of portion control, shelf-stable food products in innovative, flexible, and semi-rigid packaging. Go behind the scenes and see the entire process from food development, to container design, to the manufacturing process of bringing these great food items to your table. They also process MRE's, and Ready-To-Use Therapeutic Meals that are compact meals that can be used for the military or during emergency situations. Attendees will tour their modern facility to see their production processes including blending, hot/cold fill, and assembly capabilities.
Procter & Gamble Plant Tour • July 26 • Albany
P&G products have made a name for themselves by combining "what's needed" with "what's possible"—making our lives more enjoyable for over 181 years. Their Albany Plant – the 2nd largest in the U.S. – covers over 70 acres under one roof and generates over 1.3 Billion in sales. This facility manufactures Bounty and Charmin products and attendees will see the entire behind the scenes manufacturing process from paper making to converting to warehousing. Learn about their sustainability initiative through their combined Heat and Power Plant operated by Albany Green Energy.
The Georgia Manufacturing Alliance will host over 120 events this year including over 50 plant tours, educational sessions, and unique networking opportunities designed to help make profitable business connections for its members. Their capstone event of the year, the Georgia Manufacturing Summit, will be held October 9th at the Cobb Galleria. This 5th annual Summit highlights the people, plants and products that help create a more vibrant manufacturing environment in our state. Expected to attract over 1,000 attendees, this year's focus will be "Manufacturing Success in Georgia". More than 40 industry leaders and top name Keynotes will share the manufacturing trends to track and their recommendations for a more successful future.