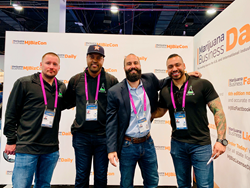 We're excited to be at the forefront of such an incredible industry and are lucky to have SXSW as a platform to connect with the world.
AUSTIN, Texas (PRWEB) March 06, 2019
The Green Lab, Texas' first creative marketing agency focused on the cannabis industry, will be unveiling a revolutionary augmented reality app poised to change the cannabis retail experience. The Green Lab has partnered with IMG Studios to create Bleum. It is the first of its kind in the Cannabis space, utilizing augmented reality to change how brands engage with their consumers. The Bleum App will make its debut appearance at the first ever CBD/Hemp activation event at South by Southwest presented by Cannabis Now on March 12-13, 2019.
Some of the biggest hurdles that exist in the cannabis industry are the restrictions placed on marketing and advertising. Brands are realizing that in order to stand out, they will need a marketing firm to break the mold, think outside the box, and reach their consumers with non-traditional marketing in a non-traditional industry. "This was the main thought behind the development of the Bleum app six months ago," says Dan Earle, Co-Founder of The Green Lab. "We saw that there was a major need in the industry to help brands stand out while also providing a unique platform to deliver information to its consumers."
The Green Lab is co-founded and operated by Dan Earle, Julian Dais, and Jeff Ledesma. Dais states that the purpose behind their work is "to develop and manage strategic marketing campaigns for cannabis brands which build brand awareness, increase customer interaction, and grow revenue." With a very methodical process and continuous moments of lab genius, The Green Lab's marketing team ensures their understanding of their client's brand identity, audience, and vision in order to create a marketing strategy that helps brands do a better job of communicating effectively with their consumers.
"The goal is to help brands develop content that is unique and creative, provides value, builds trust, and establishes credibility," says Earle. With the market in its infancy stages, it's imperative to build your business in the image of the modern consumer and The Green Lab understands this.
For more information contact:
info@thegreenlab.com
Priscilla Ortiz - Operations Manager
(512) 426-7766