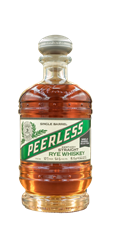 "As an E-Premise Marketplace, we understand customer demographics. We are answering the call that no one else does. We have a diverse age range of customers looking to buy these premium whiskey bourbons and spirits." said a spokesperson from Cask Cartel
CHEYENNE, Wyo. (PRWEB) January 10, 2019
Whiskey lovers truly have a new reason to celebrate. Thanks to Cask Cartel, they have the chance to purchase and taste one of America's most exquisite whiskeys: acclaimed Kentucky Peerless 3 Year Straight Rye Whiskey. This release follows the successful re-introduction of award-winning Peerless Kentucky Straight Rye Whiskey.
A drink of extreme complexity, the mix of sweet and spicy flavors will be the delight of any fine-drinks connoisseur. This 3 Year Rye is adored for its tones with high-toned floral notes and hints of savory herbs, pear and dried apricot fruit, caramel, vanilla, and toasted spice.
The latest expression delivers only what is considered being the absolute best from this limited-edition Rye:

The floral and tobacco aromas are harmoniously interlaced, given the nature and complexity of such diverse profiles.
Whiskey lovers will be immediately hit the pop of cinnamon taste, before sensing the vivid complexity of white fruit, caramel, and sweet/spicy oak. The second taste reduces the heat, emphasizing the grasses and rye spices.
The finish combines both sweet and spicy tones, with some extra chocolate and floral notes.
Kentucky Peerless Distilling Company uses a sweet mash process, that they claim to be closer to what would have originally been done at the historic Peerless site, which operated from 1889 to 1917 before closing down due to Prohibition.
The Louisville company has proven to be a top competitor, honoring secular craftsmanship with two important awards:

In November 2017, Peerless Kentucky Straight Rye Whiskey was named No. 15 Best Whiskey in the World by Whisky Advocate being given the highest number of points 91. Its Rye Whiskey was the only craft producer and Rye being awarded in this year's list.
Peerless 3 Year Straight Rye Whiskey named No. 4 Best American Whiskey of the Year by Forbes magazine for 2018. The extremely palatable whiskey has swept the jury by surprise.
The Wall Street Journal best-selling author and San Francisco World Spirits Competition judge, Fred Minnick declared:
"At this point, before I knew what I was tasting, I felt so strongly about my palate. For the past several years, I've trained in blind tastings just like this and have served as a judge on many competitions. But this one was mine, and it felt somewhat empowering to get to the final two glasses. I couldn't help but think of all the great American whiskey legends who've helped me in my career, and I hoped some, like the late Dave Pickerell, could look down on me now to see what I was about to do"
About Kentucky Peerless Distilling Company
The Peerless Whiskey's history can be traced back to the 19th century. The tumultuous times of Great Depression and Prohibition see the Kentucky distillery retrofitted into a movie house and vaudeville stage. The business is closed soon after.
Honoring their family's legacy, Corky and his son, Carson Taylor, rebuild the old building and refits it into the state-of-the-art distillery that is today. All under one roof, the select Kentucky Peerless grains are milled, cooked, fermented, double-distilled, and barreled as Bourbon & Rye. After almost 100 years, the Peerless Whiskey is back on barrels. In 2015 the Peerless Rye Whiskey has started being bottled again. The company promises the best ingredients and exquisite complexity and notes.
About Cask Castel
Cask Cartel was founded in 2014 and brought online in 2018. It is a company that comprises a team with over 4 decades of experience in the alcohol beverage industry. Cask Cartel has extensive relationships with distilleries and master distilleries across the US and the rest of the world. The company has developed an E-Premise Marketplace that's transforming the way alcohol is shopped, sold and shared online by combining the widest range of selection of allocated items and limited releases.
Some items are Bookers 30th, Bookers Kitchen Table, Basil Hayden 10 year, Hibiki Harmony Limited Edition 2018, Knob Creek Twice Barreled, Chicken Cock 10-year Limited Release, Compass Box Story of the Spaniard, Pappy Van Winkle's Family Reserve Bourbon, Bruichladdich 30 Year Old 1986 Rare Cask Series and Hendricks Gin Orbium.
Many of their items are not found at local retailers so this fills a gigantic void for those that want to purchase and or add to their collections.
For more information and to order be sure to visit https://caskcartel.com