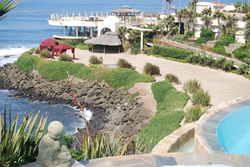 Traditional treatment centers worsen this problem by giving patients a combination of prescription medicines – the proverbial chemical cocktail – which contain a multitude of side effects such as liver and renal failure, heart damage, and other dangers.
Los Angeles, CA (PRWEB) October 29, 2013
The Holistic Sanctuary announces its response to a recent headline from The Irish Times concerning long-term methadone use as a form of 'State-sponsored Social Control,' as described by the paper's headline.(1) This story comes amidst demands within the United States and Europe, where Irene Crawley, Director of the Hope project in Dublin says: "The irony is methadone is an opiate like heroin and you're addicted to it. It is just as hard, if not harder, to come off it as it is heroin." (2)
This statement parallels The Holistic Sanctuary's commitment to permanently end addiction to methadone, heroin, subuxone, subutex, buprenorphine, oxycontin, vivitrol, narcan and other opiates, drugs, alcohol and prescription medications.
The article from The Irish Times overlaps with data in the United States, compiled by the Centers for Disease Control and Prevention (CDC), revealing that almost one-third of prescription painkiller overdose deaths involve methadone. Six times as many people died of methadone in 2009 (the most current year, for which the CDC has comprehensive numbers) than a decade before.(3) In fact, more than 4 million methadone prescriptions were written for pain in 2009, despite US Food and Drug Administration (FDA) warnings about the risks associated with methadone.(4)
The CDC's report is one of several concerning the risk of overdose from methadone, as part of the organization's "Vital Signs" study. Based on an analysis of fatal methadone overdoses and the use of opioid pain relievers (OPR) in general, researchers conclude that methadone was involved in 31.4% of OPR deaths in the 13 states. It accounted for 39.8% of single-drug OPR deaths. The overdose death rate for methadone was significantly greater than that for other OPR for multidrug and single-drug deaths.(5)
In addition, the FDA has gone so far as issuing an alert ("Death, Narcotic Overdose, and Serious Cardiac Arrhythmias") about the severity of this crisis, stating: "FDA has reviewed reports of death and life-threatening adverse events such as respiratory depression and cardiac arrhythmias in patients receiving methadone. These adverse events are the possible result of unintentional methadone overdoses, drug interactions, and methadone's cardiac toxicities (QT prolongation and Torsades de Pointes)."(6)
The enormity of this epidemic is part of a separate FDA report ("FDA's Efforts to Address the Misuse and Abuse of Opioids"), which corresponds to the information assembled by the CDC, bringing the number of deaths related to methadone and opiod drugs – in a single year – to more than 15,500. (7) The FDA also issued a draft guidance document to assist industry in developing new formulations of opioid drugs with abuse-deterrent properties. FDA intends to take a flexible, adaptive approach to the evaluation and labeling of potentially abuse-deterrent products.(8)
And yet, methadone addiction – as well as other opiate-related dependencies – continues to be cause for international worry. A London study from the Institute of Psychiatry at the National Addiction Centre, in which the authors interviewed and studied 351 drug users undergoing methadone treatment, further illustrates this point. According to the findings: "The results raise serious questions about the purposes, the delivery, and the effectiveness of this form of treatment and suggest the need for a critical reappraisal of the purposes and effectiveness of this widely used form of treatment."(9)
These negative reports and repeated warnings about the dangers of methadone are a marked contrast to The Holistic Sanctuary's exclusive, all-natural and safe means of eradicating addiction and healing the mind, body and spirit. At the other end of the spectrum, conventional rehab centers elicit considerable condemnation. In a New Republic review of Anne M. Fletcher's investigation of these facilities ("Inside Rehab: The Surprising Truth About Addiction Treatment – and How to Get Help That Works"), she profiles dozens of addicts whose rehab experiences are, in her opinion unconscionable, including the case of Jessie who was kicked out of a facility because she had "failed to accept a higher power." ("I heard clients characterized as dishonest, narcissistic, and selfish," writes Fletcher.)(10)
For Johnny Tabaie, "Johnny The Healer," (see also http://www.johnnythehealer.com/) the Founder of The Holistic Sanctuary, permanently ending addiction is his maximum priority, thanks to his safe and successful (as verified through double-blind studies) solution known as the Pouyan Method. This treatment targets and reverses the root causes of addiction, restoring and rejuvenating brain cells damaged by drug abuse.
Also, Johnny does not stigmatize addiction as an incurable disease or a lifelong, irreversible condition. His moving and uplifting video testimonials from guests are a testament to this idea, confirming there is an alternative to the relapse-to-rehab revolving door of pain, despair and financial ruin. People can view these powerful stories at: theholisticsanctuary.com/Ibogaine-Videos/
"Methadone addiction is a toxic epidemic, which needlessly costs the lives of approximately 16,000 Americans each year from overdoses and fatal drug interactions. Traditional treatment centers worsen this problem by giving other patients a combination of prescription medicines – the proverbial chemical cocktail – which contain a multitude of side effects such as liver and renal failure, heart damage, pulmonary distress, mania, suicidal thoughts, depression and pancreatitis, among other dangers. We avoid these broken techniques and failed treatment modalities. Instead, we heal a patient's brain so they can heal their life," says Mr. Tabaie.
Prospective guests can see the undeniable evidence of The Holistic Sanctuary's efforts involving the repair, restoration and rejuvenation of the areas damaged from addiction by clicking Pouyan Method Brain Scans (theholisticsanctuary.com/Brain-Scan/).
About The Holistic Sanctuary
The Holistic Sanctuary is the home of the exclusive, all-natural and proprietary Pouyan Method, which enables patients to permanently end a variety of addictions. Unlike conventional drug and alcohol rehabilitation centers, which have rates or failure or relapse among patients, The Holistic Sanctuary offers a customized protocol with the amenities of a 5-star resort. We seek to stop addiction without prescription medication or the use of 12-step programs. Nor do we classify patients as victims of an incurable disease. Our therapies focus on healing the brain, so a patient can heal their life. For more information about our innovative techniques, founding principles and testimonials from former patients, please visit http://www.theholisticsanctuary.com.
1. irishtimes.com/news/ireland/irish-news/long-term-methadone-use-is-form-of-state-sponsored-social-control-1.1567566 (10/21/13)
2. irishtimes.com/news/ireland/irish-news/long-term-methadone-use-is-form-of-state-sponsored-social-control-1.1567566 (10/21/13)
3. cdc.gov/features/vitalsigns/methadoneoverdoses/ (7/5/12)
4. cdc.gov/features/vitalsigns/methadoneoverdoses/ (7/5/12)
5. cdc.gov/mmwr/preview/mmwrhtml/mm6126a5.htm?s_cid=mm6126a5_w (7/6/12)
6. fda.gov/Drugs/DrugSafety/PostmarketDrugSafetyInformationforPatientsandProviders/ucm142841.htm
7. fda.gov/Drugs/DrugSafety/InformationbyDrugClass/ucm337852.htm
8. fda.gov/downloads/Drugs/GuidanceComplianceRegulatoryInformation/Guidances/UCM334743.pdf
9. ph.ucla.edu/epi/faculty/detels/Epi293/Gossop_DrugAlcDepend_2001.pdf (9/22/00)
10. newrepublic.com/article/112255/why-rehab-fails (1/29/13)