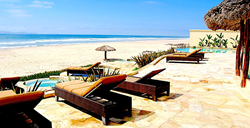 Use of suboxone is many things, ranging from physically harmful and emotionally debilitating to lethal, but is not a good drug, never mind a wondrous one.
Los Angeles, CA (PRWEB) December 02, 2013
The Holistic Sanctuary announces its rebuke concerning a recent column ("The Media Needs to Stop Stigmatizing Our Best Weapon Against Heroin Addiction") in The New Republic, in which the writer urges his fellow journalists to reevaluate or stop their criticism about buprenorphine and suboxone.(1) Alec MacGillis, the author of the article, faults the New York Times for running their own (mild, in the judgment of The Holistic Sanctuary) two-day series about the toxic and lethal dangers associated with suboxone, as well as the overly aggressive marketing tactics of Reckitt Benckiser, makers of the drug.(2)
Mr. MacGillis also writes that buprenorphine "has proven so successful at allowing opiate addicts to feel normal and go about their lives that advocates hail it as something of a wonder drug."(3) He concludes by attacking alarmist headlines about suboxone and subutex, saying: "It would be deeply unfortunate if fraught portrayals in the media with decidedly oversimplified, alarmist headlines had the side effect of dulling one of the best tools we have in this fight."(4)
And yet, the column does not reference the straightforward, on-the-record dangers of suboxone, as documented by the Food and Drug Administration (FDA). The agency's non-alarmist headline, titled "Information for Pharmacists," states: "Significant respiratory depression has been associated with buprenorphine, particularly when administered intravenously. A number of deaths have occurred when addicts have intravenously misused buprenorphine, usually with benzodiazepines concomitantly. Deaths have also been reported in association with concomitant administration of buprenorphine and other depressants such as alcohol or other opioids."(5)
These threats go well beyond a single news story or government report, since the Centers for Disease Control and Prevention (CDC) now report that unsupervised ingestion of buprenorphine-containing products by children is listed as a growing concern.(6) Long before this latest threat, the Substance Abuse and Mental Health Services Administration Center for Substance Abuse Treatment warned about physicians who may lack sufficient knowledge to prescribe buprenorphine appropriately, or do not have the resources or motivation to adequately monitor patients' progress post-prescription. Patients – driven by various motivations – also contribute to this crisis through evasive and deceptive behaviors such as "doctor-shopping."(7) Even on a regional level, in a city like Baltimore, the news about buprenorphine does not reconcile with The New Republic's description of a wonder drug. The Baltimore Sun reveals that a third to a half of the buprenorphine patients in area clinics flunked urine tests, indicating that they had been taking illegal or unauthorized drugs. People treated with suboxone do no better or worse than addicts on any other type of treatment, the article states.(8)
In addition, the Center for Substance Abuse Research (CESAR) at the University of Maryland at College Park, reports that more than half of buprenorphine-related emergency department visits in the U.S. are for nonmedical use of the drug, according to data from the Drug Abuse Warning Network (DAWN). Of the estimated 23,450 emergency department visits in which buprenorphine was involved as either a direct cause or a contributing factor to the visit, 61% were for nonmedical use of the drug.(9) And finally, among teenagers and young adults treated in emergency rooms for any reason, 10.4 percent admit they have misused a prescription painkiller such as buprenorphine at least once in the last year.(10) Again, these factors all run counter to the New Republic's use of the words wonder drug, given the health threats connected to buprenorphine.
For Johnny Tabaie, "Johnny The Healer," (see also http://www.johnnythehealer.com/) the Founder of The Holistic Sanctuary, permanently ending addiction and eradicating dependency on suboxone and other drugs is a top priority, courtesy of his exclusive and natural solution known as the Pouyan Method. This treatment targets the origins of addiction, rejuvenating and restoring brain cells to their pre-addictive state.
Most importantly, Johnny does not classify or treat addiction as a lifelong, incurable disease, which requires daily consumption of several prescription medications (which have never been tested as a single unit, in their combined formulation), enrollment in 12-step programs, belittling duties like mopping floors or reliance on other antiquated and ineffective techniques. His inspiring video testimonials from guests are independent proof of his achievements. People can watch these inspiring stories at: theholisticsanctuary.com/Ibogaine-Videos/.
"Buprenorphine or suboxone is no way a wonder drug worthy of praise or increased popularization. It is, in truth, a potentially deadly drug, which is considerably more difficult to treat than dependency on heroin or other opiates. The New Republic does its readers a disservice by minimizing or outright dismissing the magnitude of this epidemic and its implications among people of all ages, including children. Use of suboxone is many things, ranging from physically harmful and emotionally debilitating to lethal, but is not a good drug, never mind a wondrous one," says Mr. Tabaie.
Prospective patients can also see the undeniable evidence of The Holistic Sanctuary's success involving the healing of the brain by clicking Pouyan Method Brain Scans (theholisticsanctuary.com/Brain-Scan/).
About The Holistic Sanctuary
The Holistic Sanctuary is the home of the exclusive, all-natural and proprietary Pouyan Method, which enables patients to permanently end a variety of addictions. Unlike conventional drug and alcohol rehabilitation centers, which have rates or failure or relapse among patients, The Holistic Sanctuary offers a customized protocol with the amenities of a 5-star resort. We seek to stop addiction without prescription medication or the use of 12-step programs. Nor do we classify patients as victims of an incurable disease. Our therapies focus on healing the brain, so a patient can heal their life. For more information about our innovative techniques, founding principles and testimonials from former patients, please visit http://www.theholisticsanctuary.com.
1. newrepublic.com/article/115640/buprenorphine-heroin-addiction-pill-stigmatized-media; ("The Media Needs to Stop Stigmatizing Our Best Weapon Against Heroin Addiction"), November 19, 2013.
2. nytimes.com/2013/11/17/health/in-demand-in-clinics-and-on-the-street-bupe-can-be-savior-or-menace.html?hp; ("Addiction Treatment With a Dark Side"), November 16, 2013.
3. newrepublic.com/article/115640/buprenorphine-heroin-addiction-pill-stigmatized-media; ("The Media Needs to Stop Stigmatizing Our Best Weapon Against Heroin Addiction"), November 19, 2013.
4. Ibid.
5. fda.gov/downloads/Drugs/DrugSafety/PostmarketDrugSafetyInformationforPatientsandProviders/UCM191533.pdf; ("Information for Pharmacists"), December 2012.
6. cdc.gov/mmwr/preview/mmwrhtml/mm6203a5.htm; ("Notes from the Field: Emergency Department Visits and Hospitalizations for Buprenorphine Ingestion by Children — United States, 2010–2011"), January 25, 2013.
7. buprenorphine.samhsa.gov/Buprenorphine_FinalReport_12.6.06.pdf; ("Diversion and Abuse of Buprenorphine: A Brief Assessment of Emerging Indicators"), November 30, 2006.
8. articles.baltimoresun.com/2007-12-18/news/0712180042_1_drug-addiction-heroin-addicts-buprenorphine; ("Not a cure-all: Despite praise, `bupe' alone isn't enough to break addicts of destructive routines"), December 18, 2007.
9. cesar.umd.edu/cesar/pubs/20121214%20Buprenorphine%20CESAR%20FAX.pdf; ("Buprenorphine Series"), February 4, 2013 to March 31, 2013.
10. futurity.org/1-10-teens-misuse-prescription-painkillers/; ("1 In 10 Teens Admit They Misused Painkillers"), October 31, 2013.
The Holistic Sanctuary
Attn: Media Relations
info@TheHolisticSanctuary.com
Los Angeles, California
310-601-7805