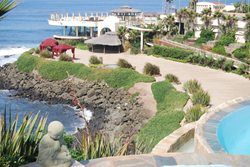 My reply to this news is direct and truthful: Shut these places down, before they take more money and ruin the lives of more innocent people.
Los Angeles, CA (PRWEB) August 30, 2013
The Holistic Sanctuary applauds the efforts of California legislators – Senator Ted Lieu, a Los Angeles County Democrat, and Assemblyman Adam Gray, chairman of the Joint Legislative Audit Committee and a Merced Democrat – to jointly call for the review of the state's taxpayer-funded drug rehabilitation programs. In a report from NBC News (as revealed on August 21, 2013), based on a yearlong investigation by The Center for Investigative Reporting (CIR) and CNN, found widespread forgery and fabrication at alcohol and drug counseling clinics, as well as wide gaps in state and county oversight.*
In the CNN/CIR report (as published on August 3, 2013), which documents abuse by one clinic operator (Alexander Ferdman), this individual allegedly spent $10,000 in clinic funds, including: $605 on a Pal Springs resort trip, $586 on a crab dinner and $108 on flowers.** The state agency responsible for policing the rehab clinics, the Department of Health Care Services, widened its crackdown this month, announcing it had temporarily suspended 46 clinics, along with 62-affiliated counseling sites -- raising its previous total of suspended clinics by 13.
CIR (as disclosed on July 29, 2013) also reports that the Los Angeles region is "ground zero for the rehab racket."*** Based on the paper's summary of the CIR and CNN study, California's Drug Medi-Cal "paid out $94 million in the past two fiscal years to 56 clinics in Southern California that have shown signs of deception or questionable billing practices, representing half of all public funding to the program."****
None of these findings surprise the expert professionals at The Holistic Sanctuary, where, for many years, we have warned about the antiquated, ineffective, toxic and expensive "relapse-to-rehab" carousel of death. These latest reports, which exhaustively document the potentially criminal abuse of taxpayer funds – money intended for patients – on luxury getaways, expensive dinners and possibly unethical accounting practices – all of these abuses, in addition to the physical agony and emotional despair patients often experience at these centers, according to the analysis our distinguished healers, is the ultimate call for the closure or defunding of these centers.
In marked contrast to these reports about corruption and "ghost clients,"***** The Holistic Sanctuary, emphasizes two key things: Absolute transparency of care and communication, coupled with the customized application of its exclusive, all-natural, famed Pouyan Method – which enables a person to heal their brain so they can heal their life. This unification of mind, body and spirit, powered by the most innovative and effective treatment modalities, is the brain healing repair system guests receive to enjoy a second chance at life.
More importantly, The Holistic Sanctuary has a customized – and extremely thorough – immune repair protocol, which is part of its overall approach towards wellness and healing, where guests receive a number of enriched and empowering resources such as: Super foods, delicious, specially prepared organic meals, cleanses, juices and intravenous (IV) therapies to directly pinpoint the sources relating to addiction, alcoholism and substance abuse in general. This one-of-a-kind amino acid neurotransmitter "wellness drip," researched and perfected by the world's most acclaimed healers, is available in seclude, sumptuous surroundings – amidst of the beauty of the outdoors and the calming energy of our 5-star accommodations.
With these natural sources, which are the complete opposite of prescription medications, guests receive the treatment necessary to repair areas of the brain damaged by addiction. In contrast, traditional medications have a long and well-documented (by the FDA, CDC and other independent governmental agencies) series of potentially severe or lethal side effects like: Pulmonary distress, gastrointestinal complications, liver damage, possible renal failure, skin discoloration, impaired vision, vertigo, jaundice, bone decay and joint pain.
For Johnny Tabaie, "Johnny The Healer," (see also http://www.johnnythehealer.com/) the Founder of The Holistic Sanctuary, all of this news – starting with the report from CNN – is confirmation of his own experiences with the toxic, physically debilitating and psychologically traumatic hazing that masquerades itself with the innocuous title of "Drug Rehab." That misnomer, in the analysis of The Holistic Sanctuary, is an invitation for scarring – of the mind, body and spirit – not healing.
"The CNN report validates everything I have said, exposed, and dissected for many years: That conventional drug treatment centers are nothing of the sort. I am a survivor of that brand of industrialized destruction, which took the lives of my brother (to addiction) and my mother (to depression), and offered not an ounce of remorse. On top of that moral negligence, these centers now stand accused of spending huge sums of money on themselves – on vacations, fancy restaurants and other perks. These events are outrageous, worthy of criminal investigation and prosecution. My reply to this news is direct and truthful: Shut these places down, before they take more money and ruin the lives of more innocent people," says Mr. Tabaie.
Furthermore, prospective guests can view the incontrovertible proof of The Holistic Sanctuary's many accomplishments concerning the repair, revival and rejuvenation of the areas damaged from addiction by visiting http://www.theholisticsanctuary.com/
About The Holistic Sanctuary
The Holistic Sanctuary is the home of the exclusive, all-natural and proprietary Pouyan Method, which enables patients to permanently end a variety of addictions. Unlike conventional drug and alcohol rehabilitation centers, which have rates or failure or relapse among patients, The Holistic Sanctuary offers a customized protocol with the amenities of a 5-star resort. We seek to stop addiction without prescription medication or the use of 12-step programs. Nor do we classify patients as victims of an incurable disease. Our therapies focus on healing the brain, so a patient can heal their life. For more information about our innovative techniques, founding principles and testimonials from former patients, please visit http://www.theholisticsanctuary.com.
*http://www.nbcbayarea.com/news/california/California-Lawmakers-Order-Audit-of-Taxpayer-Funded-Drug-Rehab-Program-220594101.html
**http://edition.cnn.com/2013/08/02/health/rehab-racket-siu-cir-part-four/?hpt=us_c2
***http://cironline.org/reports/california-rehab-clinics-bill-taxpayers-fake-clients-addictions-5012
****http://cironline.org/reports/california-rehab-clinics-bill-taxpayers-fake-clients-addictions-5012
*****http://cironline.org/reports/california-rehab-clinics-bill-taxpayers-fake-clients-addictions-5012