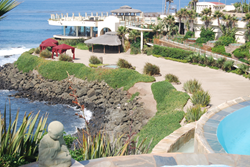 The Holistic Sanctuary is, however, the sole destination where healing – of the mind, body and spirit – is real, consistent and permanent. We end addiction, period, while never using prescription medicines, outdated theories or other antiquated concepts.
Los Angeles, CA (PRWEB) October 25, 2013
The Holistic Sanctuary announces its response to the Food and Drug Administration's (FDA) just-released report about the need for tighter controls on how doctors prescribe the most commonly used narcotic painkillers.(1) The recommendation, as covered by the New York Times, follows a decade-long debate over whether the widely abused drugs, which contain the narcotic hydrocodone, should be controlled as strongly as painkillers like oxycontin.(2)
At the same time, The Holistic Sanctuary emphasizes its sustained campaign to permanently end addiction to opiates in general, as well as other illicit substances, alcohol and prescription medications.
The FDA's statement comes in the midst of a national epidemic involving addiction, in which prescription drugs account for approximately three-quarters of all drug overdose deaths in the United States, quadrupling since 1999, according to the National Survey on Drug Use & Health.(3) In fact, Americans consume 80% of opiate painkillers produced in the world, based on findings compiled by the American Society of International Pain Physicians.(4) Even worse, every hour, a baby is born in the United States with symptoms of opiate withdrawal, as revealed by the Journal of the American Medical Association (JAMA).(5)
More specifically, antidepressants such as zoloft and celexa are – according to the journal ACS Chemical Neuroscience – the most prescribed class of drugs, with 264 million prescriptions filled, with another 131 million prescriptions written for the generic version of vicodin.(6) Overall, a record 4.02 billion drug prescriptions were written in the U.S. in 2011 (the most recent year for these statistics), up from 3.99 billion the year before.(7)
In addition, 31.9 million prescriptions were written for generic percocet, while 29.3 million were written for generic neurontin, which is frequently prescribed for long-term pain.(8) Dr. Janet Woodcock, director of the FDA's Center for Drug Evaluation and Research, states: "These are very difficult trade-offs that our society has to make. The reason we approve these drugs is for people in pain. But we can't ignore the epidemic on the other side."(9)
To further illustrate the severity of this epidemic, about 131 million prescriptions for hydrocodone-containing medications were written for about 47 million patients, according to government estimates. That amounts to about five billion pills.(10) Potential side effects from these drugs include: Swelling of the face, mouth, and throat, difficulty breathing, itching, rash or possible liver failure,(11) as well as a severe skin reaction known as Stevens-Johnson Syndrome (SJS), toxic epidermal necrolysis (TEN), and acute generalized exanthematous pustulosis (AGEP), which can be fatal.(12)
These alarming statistics, self-described (by the FDA) as an epidemic, stand in contrast to The Holistic Sanctuary's safe, exclusive and all-natural efforts to successfully heal the brain and permanently end addiction to these drugs. Conventional rehab centers, on the other hand, often lack any controlled studies of their outcomes, according to Bankole A. Johnson, Chairman of the Department of Psychiatry and Neurobehavioral Sciences at the University of Virginia.(13) Compounding the problem is the fact that many of these facilities do not even follow up with former patients.(14)
For Johnny Tabaie, "Johnny The Healer," (see also http://www.johnnythehealer.com/) the Founder of The Holistic Sanctuary, eliminating addiction to opiates – along with the combination of prescription drugs, which constitutes a so-called "chemical cocktail" – is the essence of his safe, well-researched (and confirmed, through double-blind studies) and effective solution known as the Pouyan Method. This treatment pinpoints and reverses the root causes of addiction, restoring and rejuvenating brain cells damaged by drug abuse.
Most importantly, Johnny does not classify addiction as an incurable disease or a lifelong emotional albatross. His inspiring and diverse video testimonials from guests are a testament to this belief, proving there is an escape from the relapse-to-rehab revolving door of pain, despair and financial ruin. People can view these powerful stories at: theholisticsanctuary.com/Ibogaine-Videos/
"The FDA's belated announcement does nothing to properly treat – never mind cure – addiction to opiates and other painkillers. We can already extrapolate from existing data, and predict that this epidemic will continue to increase, causing real harm (such as irreversible physical damage for a significant amount of people, or even death among thousands of people) with no attempt by the FDA or conventional drug rehab centers to stop this problem. The Holistic Sanctuary is, however, the sole destination where healing – of the mind, body and spirit – is real, consistent and permanent. We end addiction, period, while never using prescription medicines, outdated theories, attack therapy or other antiquated concepts. We heal your brain so you can heal your life," says Mr. Tabaie.
Prospective guests can examine the indisputable evidence of The Holistic Sanctuary's actions concerning the repair, restoration and rejuvenation of the areas damaged from addiction by clicking Pouyan Method Brain Scans (theholisticsanctuary.com/Brain-Scan/).
About The Holistic Sanctuary
The Holistic Sanctuary is the home of the exclusive, all-natural and proprietary Pouyan Method, which enables patients to permanently end a variety of addictions. Unlike conventional drug and alcohol rehabilitation centers, which have rates or failure or relapse among patients, The Holistic Sanctuary offers a customized protocol with the amenities of a 5-star resort. We seek to stop addiction without prescription medication or the use of 12-step programs. Nor do we classify patients as victims of an incurable disease. Our therapies focus on healing the brain, so a patient can heal their life. For more information about our innovative techniques, founding principles and testimonials from former patients, please visit http://www.theholisticsanctuary.com.
1. nytimes.com/2013/10/25/business/fda-seeks-tighter-control-on-prescriptions-for-class-of-painkillers.html?_r=0
2. nytimes.com/2013/10/25/business/fda-seeks-tighter-control-on-prescriptions-for-class-of-painkillers.html?_r=0
3. oas.samhsa.gov/nhsda.htm
4. asipp.org/documents/ASIPPFactSheet101111.pdf
5. jama.jamanetwork.com/content/early/2012/04/25/jama.2012.3951.full
6. acs.org/content/acs/en/pressroom/presspacs/2012/acs-presspac-september-12-2012.html
7. acs.org/content/acs/en/pressroom/presspacs/2012/acs-presspac-september-12-2012.html
8. acs.org/content/acs/en/pressroom/presspacs/2012/acs-presspac-september-12-2012.html
9. fda.gov/Drugs/DrugSafety/ucm372089.htm
10. fda.gov/Drugs/DrugSafety/ucm372089.htm
11. fda.gov/drugs/drugsafety/ucm239821.htm
12. fda.gov/Safety/MedWatch/SafetyInformation/SafetyAlertsforHumanMedicalProducts/ucm363519.htm
13. uvamagazine.org/features/article/targeting_addiction/#.Umn4Jjm-Iao
14. washingtonpost.com/wp-dyn/content/article/2010/08/06/AR2010080602660_2.html