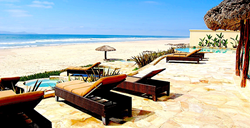 To Cure Addiction We Have to Get The Addicted Brain To A Pre-Addicted Stated. At The Holistic Sanctuary, We Do That, And Much More!
Los Angeles, CA (PRWEB) January 16, 2014
The Holistic Sanctuary is quickly becoming the therapeutic destination of choice for addicts who have experienced little or no success at traditional treatment centers, where treatment is prescribed based on the belief addiction is a non-curable disease.
According to the founder and director, affectionately known as "Johnny the Healer," who lost his mother and brother to addiction while following what he calls "ineffective and antiquated programs," traditional treatment protocols fail 90% of the time.
"These (traditional) centers refuse to change, have a stubborn close-minded attitude and perpetuate an approach plagued by toxicity," says Johnny, who should know. He spent nearly twenty years plagued with addiction before discovering his path to total healing. "They dispense massive amounts of prescription drugs, apply invasive and unnecessary procedures in conjunction with attack therapy, which forces patients into submission."
The Holistic Sanctuary Healing Center employs a treatment protocol unlike any in the world. In addition to an all-encompassing holistic approach and state-of-the-art equipment with professionally trained staff, the healing modalities focus on the repair and regeneration of an individual, not the negative attributes of an incurable sick person.
At the Holistic Sanctuary, drug addiction and alcoholism are not treated as an incurable disease, but rather as a symptom of an underlying issue…an issue that can be removed, healed and resolved.
"These people (addicts) deserve vindication, not vengeance, so they can be healed, empowered and inspired to liberate themselves from the chains of addiction," explains Johnny. "Labeling someone an incurable victim is the most inaccurate and unhelpful thing and individual can hear."
The Holistic Sanctuary is rapidly gaining a reputation for its innovative and extremely successful treatment protocols, which address the very physical and emotional aspects of addiction, as well as the contributing factors of social, environmental and spiritual toxins.
The unique Addiction Healing and Brain Repair Protocol utilized at The Holistic Sanctuary targets damage to the brain, then reverses it using cutting edge techniques and healing methods. The treatments assist the body in rebuilding brain cells and neurons damaged by chemicals.
The Pouyan Method, which utilizes natural and holistic therapies, has proven effective at detoxing, reversing, and eliminating addictions to Heroin, Benzos, Oxycontin, Cocaine, Speed, Alcohol, Suboxone, Methadone and more…and all without the toxicity of prescription medications.
Participants can customize their detox and treatment programs based on individual need. Many people experience life-changing results within seven days and are ready to live life with a renewed spirit and a regenerated body. Others choose to extend their treatment protocols for up to thirty days and beyond. Ninety-day therapeutic programs are available and popular because of their wide range of protocols, including brain scans.
The Holistic Sanctuary specializes in ending addictions to all drugs and medications, legal or illegal, street drugs or doctor provided. All healing is performed naturally, effectively and without pain. The results – and clients – speak for themselves.
"I've tried detoxing on my own before and I could never get through it. I went to a 12-step program in Washington, it didn't work for me, I didn't get anything out of it…here (The Holistic Sanctuary), it's way more calming, it's not so high strung…12-step programs made me feel like a bad person. Here, they are positive and make you feel good about yourself." – Katy, 20, former heroin and suboxone addict.
If you're ready to regain your life and permanently end your addiction, visit us at The Holistic Sanctuary to get started now.
Give the body what it needs and it will heal itself!
The Holistic Sanctuary
Attn: Media Relations
info@TheHolisticSanctuary.com
Los Angeles, California
310-601-7805