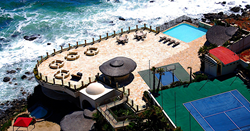 The adverse effects of the prescription drug protocols prescribed at conventional rehab centers can be deadly.
Los Angeles, CA (PRWEB) January 31, 2014
"Dangerous, life-threatening, addictive…" - these are words being used by patients undergoing permanent, positive life-changing treatments at The Holistic Sanctuary to describe their experience in conventional 12-step rehab programs. Many arrive at the center 'on their last legs' as a result of the painful and debilitating journey they encountered on their road through traditional 12-step recovery programs.
"The adverse effects of the prescription drug protocols prescribed at conventional rehab centers can be deadly," says Johnny Tabaie, Founder and Director of The Holistic Sanctuary who speaks from experience. "We see the results of these tragic treatments every day."
It is not uncommon for new patients to be suffering from liver damage, renal failure (requiring dialysis or a transplant), high blood pressure, heart attack, stroke, bone and joint decay, mania, anxiety, depression or suicidal thoughts. Some are close to death as a result of the potency of the collective drugs concentrated in a single "cocktail."
The all-natural and holistic treatments developed for patients at The Holistic Sanctuary are customized to provide the most effective road to permanent addiction recovery. The foundation for creating individualized healing protocols is simple - Every Patient is Unique and Has Travelled a Different Path.
Positive results for most patients begin occurring within the first 24–72 hours after arrival. Once registered, patients are given a comprehensive physical, mental and emotional evaluation, followed immediately by placement on a body and mind cleansing regimen which allows the healing process to begin.
Treatments are all-natural and holistic and address every aspect of a patient's journey towards spiritual renewal, physical regeneration and mental rebirth. The scientifically proven Pouyan Method of Addiction Recovery re-energizes a patient's soul naturally, without prescription drugs and without pain.
Patients commonly refer to the experience and sensation of losing their addition at The Holistic Sanctuary as being reborn…"My life has changed thanks to your program! I'm clean and sober and my depression is gone. Your center changes lives. I love my new life!"
-Tiffany, NY
In addition to Organic Nutrition, Massage Therapy, Yoga (optional), Meditation, Hyperbaric Chamber Therapy, Infrared Sauna Detoxification, Ionic Chi Cleansing, Gym Activities, Mineral Baths and Soul Soothing Beach Front Amenities, state-of-the-art medical technology is fully utilized as part of the permanent healing process.
Liver panels, EKG and ECG tests, cardio workups and 24-hour nursing care are integral components of the recovery process at The Holistic Sanctuary. Amino Acid, Antioxidant, Chelation, and Glutathione IV drips constitute important protocols of a comprehensive approach to complete and successful natural addiction healing.
The Holistic Sanctuary is the home of the exclusive, all-natural and proprietary Pouyan Method, which enables patients to experience an effective and rapid end to a variety of addictions. Unlike traditional drug and alcohol rehabilitation centers with high rates of failure and relapse among patients, The Holistic Sanctuary offers customized protocols with the amenities of a 5-star resort.
Addictions are stopped without prescription medication OR the use of 12-step programs. And, patients are not classified as having an incurable delivery. Therapies focus on healing the brain, so people can heal their lives.
For more information about their innovative techniques, founding principles and testimonials from former patients, visit https:// TheHolisticSanctuary.com today and start living your new life tomorrow.
Heal the Brain, Heal Your Life
The Holistic Sanctuary
Attn: Media Relations
info@TheHolisticSanctuary.com
Los Angeles, California
310-601-7805