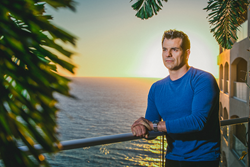 If I had entrusted my fate to doctors and conventional drug rehabs, I would have become another statistic. Simon- THS Graduate
Los Angeles, CA (PRWEB) February 04, 2014
The all-natural and holistic Pouyan Method of addiction healing used to restore lives at The Holistic Sanctuary, reprograms an addict's brain to end negative thought patterns. Identifying then resolving the underlying causes of addiction is key to their permanent recovery protocol, and fundamentally invalidates the traditional 12-step treatment approach, which is structured on the belief addiction is an incurable disease.
"If I had entrusted my fate to doctors and conventional drug rehabs, I would have become another statistic…a fatality," says Johnny Tabaie, Founder and Director of The Holistic Sanctuary. "I would have been one of thousands who needlessly died because of a bankrupt ideology and a toxic brand of treatment."
At the heart of the exclusive Pouyan Method of drug dependency and alcoholism recovery program, is the proven healing philosophy that addiction is naturally treatable and curable, without prescription medications, pain or the ineffective victimization associated with daily or weekly 12-step meetings.
"What happened actually is…I was clean for over a year and I was going to NA religiously every day, had a sponsor, did the whole thing working the steps…and just wasn't feeling good," says Simon, a lifelong opiate addict and patient at The Holistic Sanctuary.
Simon's reflections on the dangers of traditional 12-step rehab centers echo a growing chorus of warnings emanating from desperate patients who have experienced the sometimes deadly 12-step treatment protocols. The Pouyan Method of Addiction Healing is rewriting the rules of addiction recovery and changing lives on a daily basis.
"Going to a doctor was okay in the Big Book, having something prescribed so I could justify it and keep my clean days. Well, that all went fine until I started taking myself off," says Simon. "The withdrawals were so bad I had to go back on illegal methadone, heroine…right back where I didn't want to be again."
The Pouyan Method is a unique and groundbreaking approach specifically designed to maximize the permanent healing process and repair the severe brain damage caused by drugs. It is a unique, cutting-edge holistic treatment protocol enhanced with state-of-the-art medical technology for the most effective addiction recovery treatment in the world.
The Holistic Sanctuary is the home of the exclusive, all-natural and proprietary Pouyan Method, which enables patients to experience an effective and rapid end to a variety of addictions. Unlike traditional drug and alcohol rehabilitation centers with high rates of failure and relapse among patients, The Holistic Sanctuary offers customized protocols with the amenities of a 5-star resort.
Addictions are stopped without prescription medication OR the use of 12-step programs. And, patients are not classified as having an incurable disease. Therapies focus on healing the brain, so people can heal their lives!
For more information about their innovative techniques, founding principles and testimonials from former patients, visit TheHolisticSanctuary.com today and start living your new life tomorrow!
Heal the Brain, Heal Your Life.
The Holistic Sanctuary
Attn: Media Relations
info@TheHolisticSanctuary.com
Los Angeles, California
310-601-7805