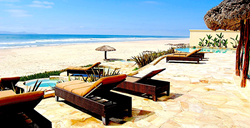 The severity of the suboxone epidemic is well beyond the reach of conventional rehabs and traditional treatment modalities. The Holistic Sanctuary is the sole destination with the resources and track record to permanently end this addiction.
Los Angeles, CA (PRWEB) November 18, 2013
The Holistic Sanctuary announces its review and analysis of an extensive New York Times exposé on buprenorphine and suboxone.(1) The article echoes many of the longstanding findings from The Holistic Sanctuary about the toxic and deadly risks associated with these drugs. The piece also documents the extremely powerful financial influence involving the use of suboxone, which now exceeds prescriptions for Viagra and Adderall, with $1.55 billion in sales in 2012.(2) In comparison, and as a further example of the severity of this epidemic, suboxone went from being the 198th-most commonly prescribed drug in the U.S. to 26th, with over 9.3 million prescriptions now in circulation.(3)
These numbers correspond to The Holistic Sanctuary's warnings about the suboxone epidemic, as well as abuse by doctors who may be contributing to illegal sales of this narcotic by prescribing it excessively. According to Dr. David Fiellin, a Yale University professor who directs the Physician Support System: "There are physicians who are practicing outside the standards of care. There is not an active surveillance system in place to identify physicians who are practicing outside the guidelines."(4) And yet, based on reporting from the Baltimore Sun, law enforcement can do little or nothing to stop these abuses, which worsen the suboxone plague because the Drug Addiction Treatment Act of 2000, which authorizes the use of buprenorphine, forbids the government from interfering in the practice of private medicine.(5)
In addition to the lack of oversight concerning misuse or acts of medical malpractice by doctors who prescribe suboxone, there are significant psychological effects and neurological damage relating to this drug. The effects often worsen addiction to suboxone, with 5.3 million Americans suffering from abuse of this medication and other opiates, according to studies performed by McLean Hospital, a Harvard Medical School affiliate and the National Institute on Drug Abuse (NIDA).(6)
The Center for Substance Abuse Research (CESAR), at the University of Maryland at College Park, also reveals that buprenorphine is an increasingly popular street drug, which dealers smuggle into jails and prisons.(7) The results show an increase in the percentage of persons testing positive for buprenorphine, in contrast to a smaller pilot study, and that these individuals had been using other drugs, suggesting possible abuse or addiction. Of the 98 specimens that tested positive for buprenorphine, 45% also contained two or more additional drugs and more than 60% contained other opioids.(8)
These figures are even more worrisome, when viewed within the broader context of opiate-related overdoses and fatalities. The Centers for Disease Control and Prevention (CDC) state that one person dies from a drug overdose every 19 minutes. About 28,754 Americans died after accidentally overdosing on legal or illegal drugs in 2009 (the most recent year for such data), according to the CDC; about half of those deaths involved prescription painkillers (of which suboxone is one such medication).(9) Dr. Alex Cahana, the chief of pain medicine at the University of Washington, illustrates how easily use of suboxone or similar drugs can lead to death.
"Could you imagine, a worker that popped their back, and we started to put them on (pain) medication and three years later they were dead?" Dr. Cahana told CNN. "That's devastating."(10)
For Johnny Tabaie, "Johnny The Healer," (see also http://www.johnnythehealer.com/) the Founder of The Holistic Sanctuary, eliminating the withdrawal symptoms, cravings, depression and agony involving suboxone is safe, successful and permanent, thanks to his exclusive and natural solution known as the Pouyan Method. This treatment targets the root causes of addiction, repairing and restoring brain cells to their pre-addictive state.
Most importantly, Johnny does not classify addiction as an incurable disease, which requires the consumption of prescription medications (a so-called "chemical cocktail"), enrollment in 12-step programs, attack therapy or other outdated and failed techniques. His inspiring video testimonials from guests are independent proof of his achievements. People can watch these powerful stories at: theholisticsanctuary.com/Ibogaine-Videos/
"Suboxone is an extremely dangerous drug, which is much harder to treat than dependency on heroin or methadone, because the withdrawal symptoms are, as mentioned above, severe, physically painful and emotionally devastating. In fact, as of November 11th of this year 54 people on suboxone had already committed suicide.(11) The enormity of this epidemic is well beyond the reach of conventional rehabs and traditional treatment modalities. The Holistic Sanctuary is the sole destination with the resources and track record to permanently end this addiction. The current system is, on the other hand, part of the problem, making suboxone a lucrative drug to prescribe, a coveted one to steal or smuggle, and a potentially lethal substance to use," says Mr. Tabaie.
Prospective guests can additionally see the indisputable evidence of The Holistic Sanctuary's accomplishments involving the healing of the brain by clicking Pouyan Method Brain Scans (theholisticsanctuary.com/Brain-Scan/).
About The Holistic Sanctuary
The Holistic Sanctuary is the home of the exclusive, all-natural and proprietary Pouyan Method, which enables patients to permanently end a variety of addictions. Unlike conventional drug and alcohol rehabilitation centers, which have rates or failure or relapse among patients, The Holistic Sanctuary offers a customized protocol with the amenities of a 5-star resort. We seek to stop addiction without prescription medication or the use of 12-step programs. Nor do we classify patients as victims of an incurable disease. Our therapies focus on healing the brain, so a patient can heal their life. For more information about our innovative techniques, founding principles and testimonials from former patients, please visit http://www.theholisticsanctuary.com.
1. nytimes.com/2013/11/17/health/in-demand-in-clinics-and-on-the-street-bupe-can-be-savior-or-menace.html?hp; ("Addiction Treatment With a Dark Side"), November 16, 2013.
2. Ibid.
3. villagevoice.com/2013-10-23/news/suboxone-reckitt-benckiser-cure-for-heroin-addiction-or-black-market-bonanza/full/; ("Is Suboxone a Wonder Drug that Helps Heroin Addicts Get Clean--Or Just Another Way to Stay High?"), October 23, 2013.
4. articles.baltimoresun.com/2008-02-23/news/0802230293_1_buprenorphine-heroin-drug-treatment; ("Strategies to control bupe abuse outlined"), February 23, 2008.
5. Ibid.
6. abcnews.go.com/blogs/health/2011/11/08/for-painkiller-addicts-suboxone-means-freedom-dependence/; ("For Painkiller Addicts, Suboxone Means Freedom, Dependence"), November 8, 2011.
7. cesar.umd.edu/cesar/cesarfax/vol21/21-09.pdf; ("CESAR Publishes Report Warning of Emerging Epidemic of Buprenorphine Misuse"), March 5, 2012.
8. Ibid.
9. cdc.gov/mmwr/preview/mmwrhtml/mm6101a3.htm?s_cid=mm6101a3_w; ("CDC Grand Rounds: Prescription Drug Overdoses — a U.S. Epidemic"), January 13, 2012.
10. cnn.com/2012/11/15/health/deadly-dose-jackson-rummler/index.html; ("Prescription drug deaths: Two stories"), November 19, 2012.
11. ehealthme.com/ds/suboxone/completed+suicide; ("Review: Completed suicide in Suboxone"), November 11, 2013.
The Holistic Sanctuary
Attn: Media Relations
info@TheHolisticSanctuary.com
Los Angeles, California
310-601-7805