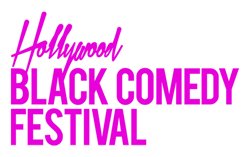 "The TCL Chinese Theatre is thrilled to partner with the Hollywood Black Comedy Festival to honor Nick for his contributions to entertainment through comedy and film," says Elie Samaha - CEO of the TCL Chinese Theatre.
LOS ANGELES (PRWEB) April 24, 2019
The inaugural Hollywood Black Comedy Festival (HBCF) takes place June 20th through June 23rd, 2019 in Los Angeles, CA in some of Hollywood's most iconic entertainment venues. The festival highlights the best of the many shades of Black comedy thriving in Improv, Standup, Digital and traditional media. From provocative panel discussions, hilarious stand-up comedy, and historic honors, the festival presents the most fun and entertaining formats Black and Urban Comedy has to offer.
Launched by veteran comedy producer Jeru Tillman, the HBCF is a highly anticipated and exclusive series of events featuring some of today's best comedic talent.
"We created the HBCF to be the coolest environment to showcase the new generation of comedic talent while celebrating the best and most important leaders in Black comedy culture today" says Tillman.
The HBCF has partnered with the iconic TCL Chinese Theatre to honor comedian, actor, producer and entrepreneur Nick Cannon with a hand and footprint ceremony at the world-famous TCL Chinese Theatre in Hollywood on Friday, June 21st. Cannon has had a hugely successful career in entertainment which includes the classic film Drumline, host of Fox's The Masked Singer and long running series Wild N' Out, which was recently picked up by MTV for an additional 90 episodes.
The festival line-up features a diverse offering of shows including:
The celebrity and tastemaker driven Industry Only Show hosted by Deon Cole of ABC's Blackish.
The first Los Angeles performance by The 85 South Show. With DC Young Fly, Karlous Miller and Chico Bean at the Hollywood Palladium.
Movie Night with JaVale. A classic Black Comedy screening at The TCL Chinese Theatre hosted by LA Laker JaVale McGee and "King Keraun" Harris.
The best in Def Comedy Jam styled humor from The New York Kings Tour with Capone, Rob Stapleton and Talent Harris
The New Negroes! A live version of the hit Comedy Central TV show featuring the best in alternative comedy from a Black perspective.
Other events during the festival include celebrity meet & greets, panel discussions, conversations and more.
Tickets for The Hollywood Black Comedy Festival are on sale now.
For tickets and updates check out our website at http://www.TheHBCF.com