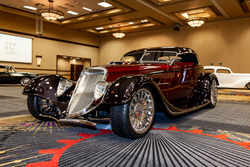 2018 Best of Show winner, 1933 Ford Roadster. Photo: Joey Savoie.
RENO, Nev. (PRWEB) August 13, 2018
Twenty elite classics competed for the honorable title of the Hot August Nights Cup presented by Downtown Reno in partnership with VisitRenoTahoe.com. The nostalgia festival brings thousands of cars to the "Biggest Little City," but these select competitors had the chance to win a piece of the largest prize purse of any collector car competition.
"Our sponsors and supporters allow the Hot August Nights Cup to stay the largest prize purse in the world with over $82,000 in cash and prizes up for grabs," said Hot August Nights Executive Director Mike Whan. "The Hot August Nights Cup allows for the cream of the crop to be recognized, admired and showcased."
Sponsors include THE ROW, VisitRenoTahoe.com, Painless Performance Products, AMSOIL, Adam's Premium Car Care Products, and Dakota Digital.
During the three-day competition, Hot August Nights welcomed back esteemed judges including the builder of automobiles seen on movies like "Knight Rider" and "A-Team," Steve Mank; alongside judge and manager of 33 automotive events Reggie Tibbetts; and on-camera personality of "Search and Restore," Eddie Potestio, narrowed down the 20 entrants to the Top Five.
On Aug. 11, 2018, the Elite Reno Five were announced in downtown Reno from 4th and Virginia Streets. Top Five Cup winners are as follows:
Best of Show:
Owner: BUDDY & NANCY JORDAN FROM SPRING BRANCH, TEXAS
Builder: STEVE FRISBEE, OF STEVE'S AUTO RESTORATIONS
Year/Make/Model: RED/BLACK – 1933 FORD ROADSTER
Second Place:
Owner: CHRIS & GREG ALLEN, FROM SELBYVILLE, DELAWARE
Builder: ED DENKENBERGER, OF SUPERIOR AUTO WORKS
Year/Make/Model: SANDSTONE METALLIC – 1967 CHEVY CAMARO SS
Third Place:
Owner: GARY MCKAY, FROM TACOMA, WASHINGTON
Builder: CRAIG WICK, OF WICKED FABRICATION
Year/Make/Model: GREEN - 1957 FORD CUSTOM 300
Fourth Place:
Owner: EDWARD "TAD" & SUE LEACH, FROM COEUR D'ALENE, IDAHO
Builder: DAVE KINDIG, OF KINDIG-IT DESIGN
Year/Make/Model: BLUE - 1958 CONTINENTAL MK111
Fifth Place:
Owner: ROBERT & PEGGY ANDERSON, FROM SAVANNAH, GEORGIA
Builder: STEVE LEGENS, OF LEGENS HOT ROD SHOP
Year/Make/Model: WHITE - 1936 PONTIAC PINDIAN
About Hot August Nights:
Hot August Nights, a nonprofit organization, is the world's premier classic car event, annually drawing hundreds of thousands of spectators and participants to northern Nevada to revel in nostalgia, enjoy top entertainers from the '50s, '60s and '70s and participate in a variety of events including Show-n-Shines, controlled cruises, an auction, drag races, autocross, drifting and more. For more information, call (775) 356-1956 or visit hotaugustnights.net. For the latest updates on Hot August Nights, visit Facebook.com/HotAugustNights or on Twitter @HotAugustNights.