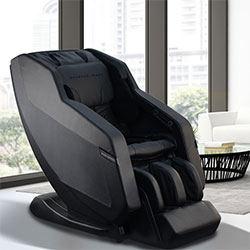 SEABROOK, N.H. (PRWEB) December 22, 2020
Massage therapy is understood these days to be part of a healthy lifestyle, healing both the body and the mind, through a daily therapeutic regimen. If you were walking a mall in the '80s and '90s you likely sat in an early version of a massage chair at a Sharper Image store. Today's Sharper Image massage chair re-introduction tips its hat to those early days but integrates all the latest technology, for a far more effective experience.
Sharper Image is introducing 2 premium smart body-scanning models for customized massage experiences. The Revival Massage Chair integrates an L-shaped track to massage your back, from your neck, all the way to your glutes. The chair reclines to a far-reaching Zero Gravity position, key for spinal decompression and improved circulation. The 24 air chambers provide soothing compression massage throughout your feet, calves, arms, and shoulders while reflexology rollers work the soles of your feet.
The Relieve 3D Massage Chair has all the features of the Revival but layers on even more innovation. Start with the state-of-the-art 3D back massage mechanism and kneading calf rollers that mimics the motions of human hands. Moving not only up & down and side to side, but adding an adjustable in & out motion, for deeper tissue massage. Other innovations include arm massage pockets that pop up for a massage or folds down to create an arm rest. A smart side mounted control panel that allows you to store your favorite of massage programs, for quick & easy access. The integrated premium Bluetooth speakers, plus an optional iOS/Android APP, round out the technology package.
Sharper Image massage chairs will become widely available starting January. To learn more visit http://www.sharperimagemassagechairs.com Media contact info@SharperImageMassageChairs.com
Founded in 1977, Sharper Image is an iconic brand known for bringing futuristic and innovative experiences to consumers. That vision has evolved. Today, every Sharper Image product goes through an extensive design process focused on going beyond simple innovation. Each product is built to be clever, visionary and timeless. The new Sharper Image promise is to deliver products that will be remembered today, tomorrow and Tomorrow's Tomorrow™.