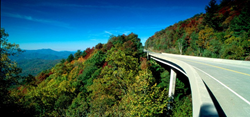 What better way to view the splendor of the Tennessee River Valley than on the back of a motorcycle.
KNOXVILLE, Tenn. (PRWEB) October 15, 2018
Traveling by motorcycle is one of the best ways to explore a destination, offering riders with an unobstructed 180-degree view. The Tennessee River Valley is a spectacular geologically diverse valley home to river cities, waterfalls, vineyards, recreational lands, lush forests and rolling hills, making for a unique and unforgettable vacation experience. Several designated routes and trails featuring the finest scenery Mother Nature can offer, Appalachia's breathtaking countryside, history-packed towns and some of the region's best riverscapes are waiting to greet motorcycle enthusiasts. For those who want to experience the region by motorcycle, the Tennessee River Valley Mapguide is a resourceful tool for planning an exhilarating trip.
"What better way to view the splendor of the Tennessee River Valley than on the back of a motorcycle," said Julie Graham, spokesperson for the Tennessee River Valley Stewardship Council. "We hear from bikers that fresh air and open roads are good for the soul, and here in the Tennessee River Valley, there are a variety of sights, smells and sounds to experience and roads for all skill levels. The Tennessee River Valley is quickly becoming a popular area for motorcycle riding in the United States."
Named for the area's history as a moonshine-running corridor, the White Lightning Trail today represents much more than just moonshine. Beginning and ending in Knoxville, the trail offers 200 miles of open roads through the Tennessee hills, quaint small towns and historic buildings and sites, providing riders with a glimpse into Appalachian culture, delicious Southern cuisine and some of the most breathtaking scenery in East Tennessee. Things to see and experience along the way include moonshine exhibits, Victorian homes, Civil War sites, scenic overlooks, famous factories and post-prohibition stock car speedways.
Designated a National Scenic Byway, the Cherohala Skyway crosses through the Cherokee National Forest in Tennessee and the Nantahala National Forest in North Carolina. Approximately 45 miles long, the Skyway connects Tellico Plains, Tennessee, with Robbinsville, North Carolina. The elevations range from 900 feet above sea level at the Tellico River in Tennessee, to over 5400 feet above sea level at the Tennessee-North Carolina state line at Haw Knob.
Key points along the wide, paved, two-lane road include Bald River Falls, Indian Boundary Campground, Pheasant Fields Rearing Pools, Tail of the Dragon, Eagle Gap Trailhead, Grassy Gap Trailhead, Brushy Ridge, West Rattlesnake Rock Trailhead and Oosterneck Creek. A handy trip plan is available by clicking here.
The Natchez Trace Parkway is a 444-mile recreational road and scenic drive through three states – Alabama, Mississippi and Tennessee. It roughly follows the 'Old Natchez Trace,' a historic travel corridor used by American Indians, "Kaintucks," European settlers, slave traders, soldiers and future presidents.
A National Scenic Byway and All-American Road, the Natchez Trace Parkway officially begins in Pasquo, Tenn., the location of the northern terminus of the Natchez Trace Parkway. The community was originally settled in the late 1700s by a group from Pasquotank County, North Carolina, who named it after their previous home.
While the route travels through Mississippi and Alabama, the scenic drive through Tennessee offers 28 key points along the route worth stopping and experiencing. Visitors along the route are treated to a bird's eye view of the countryside, recreational opportunities including camping and hiking, historical sights and a working tobacco farm.
Situated along the southern foothills of the Appalachian Mountains, North Alabama has become a favorite area to explore by motorcycling enthusiasts. The scenic routes offer a unique blend of unexpected cultural and heritage stops to accent a trip.
Riders can choose from six routes taking them on a journey through Bankhead National Forest, the Lookout Mountain Parkway, Natchez Trace, Sand Mountain, the Covered Bridge Capital of Alabama and along the Tennessee River on a dam tour. Each route offers something different to experience depending on the rider's mood and curiosity. For more information on each route, click on the links provided below.
Scenic North Alabama Motorcycle Route-Bankhead National Forest
Scenic North Alabama Motorcycle Route-Covered Bridges
Scenic North Alabama Motorcycle Route-Lookout Mountain Parkway
Scenic North Alabama Motorcycle Route-Natchez Trace
Scenic North Alabama Motorcycle Route-Sand Mountain
Scenic North Alabama Motorcycle Route-The Dam Tour
Beginning in the southwest corner of Virginia, the Tennessee River Valley region cuts through the mountainous areas of Tennessee, North Carolina, and Northern Georgia, into the rolling hills and bottomlands of northern Alabama and Mississippi and then north through the marshes and wetlands of middle-west Tennessee and ending in western Kentucky. The Tennessee River Valley offers a compelling story, captivating visitors with its little unknown facts, pristine, untouched areas and rich, authentic experiences. Save trip ideas and plan a trip easily with the Tennessee River Valley Geotourism MapGuide, an online guide of authentic places and adventures that have been recommended by locals.