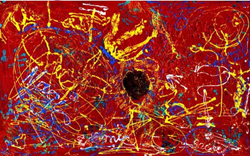 BEVERLY HILLS, Calif. (PRWEB) December 03, 2018
'The Last Wizard', American artist Jack Armstrong's largest and most complex painting measuring 6 ft. X 4 ft. is not only his grandest painting in scale but also in the complete mastery of the 'Cosmic X' art form that he founded in 1999. 'Cosmic X' requires the artist to become the art they are creating by feeling no separation between the art and the artist.
"When I saw Basquiat's huge blue, red and yellow skull at it's completion, I knew it would be regarded as one of his best works, it later sold for 110M Dollars, explains Armstrong. 'The Last Wizard' painting is approx. the same dimensions as Jean-Michel's 'Untitled'". Armstrong adds, "I feel the same way about 'The Last Wizard' as Pollock must have felt about his painting 'Blue Poles', 'Guernica' to Picasso, 'Orange' by Rothko, and 'Untitled' by Basquiat."
Completed in 1952, Blue Poles was acquired by the National Gallery of Art In Australia in 1973, amid much outcry among the Australian public that the government would purchase, a modern abstract painting at just over 1 Million dollars in Australian currency. Today the painting is conservatively estimated at 300 Million to over 1 Billion Dollars. https://en.wikipedia.org/wiki/Blue_Poles,
Picasso's Guernica could guarantee 1 Billion Dollars today at auction.
1961 "Orange Red Yellow," by Rothko sold for $87M. in 2012. Rothko maintained the social revolutionary ideas of his youth throughout his life. In particular he supported artists' total freedom of expression, which he felt was compromised by the market. This belief often put him at odds with the art world establishment, leading him to publicly respond to critics, and occasionally refuse commissions, sales and exhibitions.
JEAN-MICHEL BASQUIAT (1960-1988), "Untitled," 1982 (acrylic, spray paint and oilstick on canvas, 72 1/8 x 68 1/8 inches). Bids began at $57 million. Sold for $110,487,500 (including fees)
"Tonight, Jean-Michel Basquiat entered the pantheon of artists whose works have commanded prices over $100 million, including Picasso, Giacometti, Bacon, and Warhol," said Grégoire Billault, head of the Contemporary Art Department at Sotheby's New York.
"This extraordinary canvas from 1982 has broken so many benchmarks …but those of us lucky enough to have been in it's presence will only remember it's awesome power. To think that it was created by a virtually-unknown 21-year old and was dismissed by critics, is humbling." The Guardian Article - https://bit.ly/2rAnH84
Cosmic Extensionalism Wiki.com - https://bit.ly/2K7yyNH
"In the future "The Last Wizard" will break the records of his peers, but the power of all these larger-than-life works will remain as the signposts that signaled the future of art." - Jack Armstrong
Please contact us for more information or to interview the artist.
MELINDA MANOS / MANOS PUBLIC RELATIONS
9889 S. Santa Monica Blvd. Suite #201
Beverly Hills, CA 90212
O: 424-777-0548 | M: 818-961-6683