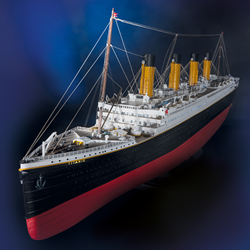 This superb 1:250-scale build up replica of the fabled RMS Titanic features exceptional levels of detail. Once completed, it is guaranteed to become a show-stopping centerpiece.
NEW YORK (PRWEB) December 10, 2021
Eaglemoss' Die-Cast Club, creators of super-detailed "build-up" models for vehicle fans, collectors, and model enthusiasts around the world, releases a superb 1:250 scale model of the fabled RMS Titanic. Featuring exceptional levels of detail, the replica is constructed in the traditional model ship style of an internal frame made from MDF and wood, with other parts made from brass, high-quality die-cast metal, plastic, and other materials. When fully assembled, the model will measure an impressive 42.4in (107.6cm) in length.
What makes this magnificent build-up replica really stand out is the wealth of features that can be found right across the model, from bow to stern. As on the real Titanic, the boat deck is crafted from real wood, with the fine detailing extending to the lifeboats, cranes, chains, winches, and other deck fixtures as replicated from the full-size vessel. The two wooden masts provide a frame for the ship's intricate rigging and communication lines, while Titanic's four grand funnels dominate the vessel's striking silhouette. Easy to construct using glue, a few basic tools, and concise assembly instructions, the model is guaranteed to become a show-stopping centerpiece once completed.
As part of the collection, subscribers will receive two sets of lights to give the model even more of a wow factor. Fitted inside the hull, an internal light kit dramatically illuminates the cabin portholes as well as the translucent roofs on the deck. External lighting consist of green and red LED navigation lights positioned on the port and starboard sides of the bridge. With both light sets turned on in a dark room, it makes for a truly breathtaking display.
Build the RMS Titanic is delivered via a unique subscription program that begins with a shipment of the first two sets of precision-engineered parts. Also included is a feature-packed magazine, which as well as incorporating the model's assembly instructions traces the history of this opulent ocean liner, describes what life was like onboard for all classes of passenger, and takes a look at the poignant stories of the survivors and those who lost their lives. And, of course, no Titanic publication would be complete without an examination of the unique set of circumstances that led to this supposedly "unsinkable" ship hitting an iceberg and plummeting to the freezing depths of the Atlantic on that fateful night in April, 1912. Each subsequent monthly shipment is accompanied by another informative magazine, plus four further sets of model parts.
Over the course of the program, subscribers are sent several exclusive gifts at no extra cost, including tools, a display base, and a binder. Together worth over $110, these will help build and display the model, and keep the magazines together. It all amounts to a comprehensive subscription program that offers everything for Titanic aficionados, model builders, and those interested in bringing the compelling story of the world's most famous ocean liner to life through the construction of this spectacular replica.
To find out more and subscribe to take advantage of the Die-Cast Club's bonus offers, go to http://www.diecastclub.com/build-the-titanic
--
About Eaglemoss' Die-Cast Club
Eaglemoss Collections exhibits a passion for creativity and innovation evident in everything we design, manufacture, and publish. We invest generously in creating, researching, and marketing our offerings, working closely with our licensors and partners every step of the way to achieve superior results. The Die-Cast Club catalogue includes the Eleanor Mustang from Gone in 60 Seconds, Mercedes 300 SL Gullwing, Nissan GT-R, Willys MB Jeep®, and Rally Podium Set Collection. Alongside Die-Cast Club, the Eaglemoss umbrella includes the sci-fi, fantasy, and comics-focused Hero Collector, and Creacrafts, producing baking and knitting accessories for popular brands like Disney. For more information go to http://www.diecastclub.com.