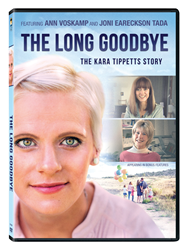 "I want more of what Kara Tippetts had." - Ann Voskamp
LOS ANGELES (PRWEB) March 22, 2019
Today, on the 4th anniversary of Kara Tippetts passing, a highly anticipated documentary releases that shares her powerful story of living and dying with grace, humor, and dignity. Including interviews and conversations with including Joanna Gaines, Ann Voskamp, Ellie Holcomb, Jim Daly, and Joni Eareckson Tada, THE LONG GOODBYE: The Kara Tippetts Story shines in its authenticity.
"I want more of what Kara Tippetts had."

In 2014 and 2015, Kara vulnerably and transparently allowed the world to experience her daily life through her blog – Mundane Faithfulness, sharing her insights as a pastor's wife, a mother of four, and a friend who was facing a terminal cancer diagnosis.
Kara's story became headline news after a letter she wrote to Brittany Maynard-who was also dying of cancer, went viral. Although Kara and Brittany were on opposite sides of this controversial subject, the dialogue they started was thoughtful and needed-and as always when Kara was concerned, wrapped in grace and love. Kara also wrote three books, became an award-winning author, and impacted thousands of people around the world through her videos and blogs.
"The impact of her life was huge. I'm blessed to know her."

Filmmakers Jay and Sofia Lyons came upon Kara's story, and instantly wanted to help. What began as a short video for her blog blossomed into creating a feature-length film, documenting her final days, and sharing her compelling story.
"Sharing this time with her family was nothing short of a holy experience."
– Sofia Lyons, filmmaker.
Kara's life impacted readers of all demographics, including cultural influencers who were touched by her life's message and simply wanted to help. Many shared her posts. Others became personal friends. Others reached out in creative ways. Travis Cottrell, Selah, and filmmaker Sofia J. recorded music for the project. Documented in THE LONG GOODBYE are a house concert performed by Ellie Holcomb, creative mentorship from Ann Voskamp, friendship with Joni Eareckson Tada, and a very personal gift to Kara's family from Joanna Gaines.
Jay shares, "Kara was all about living in community. Even in her suffering and dying, she opened herself up more, which is highly unusual. She allowed her friends and even her readers to grieve alongside her, which was truly an unintended healing gift for us all. One part of this movie is about how to "die well," but another huge part of it is how to "live well."
"I think Kara and I both understand that deep suffering stretches the capacity of the soul."

Sofia continues, "Kara's life and legacy has made an incredible impact on our lives. To be able to explore what it means to face a terminal illness. To help us understand how God is with us in our suffering. To learn what it means to say goodbye…"
In association with Freely, LLC, THE LONG GOODBYE: The Kara Tippetts Story was created by Jay Lyons Productions, and is distributed through Ocean Avenue Entertainment. http://karatippettsdocumentary.com/
About Ocean Avenue Entertainment:
Ocean Avenue Entertainment, Inc. is the destination for productions that offer hope to audiences looking for inspiration in entertainment. Ocean Avenue is committed to releasing inspiring and redemptive films and television programming. Its distribution strategy optimizes each release platform to find the widest possible audience theatrically on VOD, DVD and ultimately on streaming sites like Netflix and Amazon Prime. For more information, please visit http://www.oceanave.tv.
About Freely:
Freely specializes in projects that touch the human spirit. Freely is building content across all platforms including film, TV, live events, digital media, and has recently launched a talent management division. http://www.freely.com