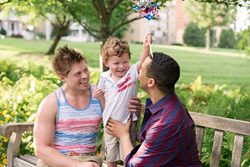 The internet is flooded with people trying to push surrogacy information, but it's hard to know what is credible, or where to start,
CHICAGO (PRWEB) April 09, 2019
Men Having Babies (MHB) is a non-profit organization, led by parents and surrogates, that has helped thousands of gay men worldwide become biological parents since 2012.
The Chicago conference is one of eight annual conferences held by MHB worldwide, with other conferences taking place in New York, San Francisco, Brussels, Miami/Fort Lauderdale, Taipei, Toronto and Tel Aviv.
Responding to popular demand, for the first time the 2019 conference will offer prospective single fathers a unique opportunity to hear from gay fathers who've gone through the surrogacy journey without a partner, and meet like-minded prospective fathers.
"Even more than previous years, this event draws people from far beyond the Chicago area," said Ron Poole-Dayan, Executive Director of Men Having Babies. "Almost half of those who have already registered are gay men from all parts of the Midwest, and even attendees from the East Coast and the South who prefer not to wait for our Florida and NY conferences."
"The internet is flooded with people trying to push surrogacy information, but it's hard to know what is credible, or where to start," said Poole-Dayan. "The two-day events, which are held across the United States, Europe, Canada and Israel, offer an immersive experience, a combination of a 'boot camp' and a community event which cannot be done online," he said.
The conference includes a panel discussion comprised of gay surrogacy dads and the surrogates who helped them in their journeys. Two workshops will be offered on planning the surrogacy journey, based upon the accumulated knowledge of hundreds of gay men who have already gone through the process. Other sessions will cover the latest studies about gestational surrogacy, and insurance, budgeting, legal, medical and psychological aspects of surrogacy.
"Our conferences are not meant to persuade to become parents ... they are meant for people who already want to become parents (and) to make the process more accessible and easier," Sherman Taylor, Board Chair of Men Having Babies.
Proceeds from sponsorship and exhibiting fees will benefit MHB's Gay Parenting Assistance Program (GPAP), which annually provides dozens of prospective parents with over a million dollars' worth of cash grants, discounts and free services from more than fifty leading service providers. The majority of the exhibitors at the Chicago conference are supporters of GPAP, including Platinum sponsor Family Source Consultants, and Gold sponsors: Anova Fertility, Worldwide Surrogacy Specialists, San Diego Fertility Center, Fertility Center of Illinois, Creative Family Connection, Fertility Specialists of Texas, CReATe Fertility, Vios Fertility Center, ARR and InVia Fertility.
The event will take place on April 13th , 8:30 a.m. – 7 p.m., and April 14th , 8:30 a.m. – 12:45 p.m. at the Wyndham Grand Chicago Riverfront hotel. In addition, MHB is offering a post-conference happy hour party at hotel's Penthouse Ballroom on Saturday, April 13, at 7:00pm. The event is offered in cooperating with local and national LGBT organizations, and is open to the Chicago LGBT community at large.
Go to menhavingbabies.org/chicago for registration and additional information.
Note: while the event is organized by a gay parenting organization, non-gay prospective parents are also welcome and will no doubt highly benefit from the information provided.
***
Press inquiries: Contact Shelly Marsh, marketing director of Men Having Babies shelly(at)menhavingbabies.org / 714-515-9602. Interviews with parents, prospective parents, surrogates and experts can be arranged by request.