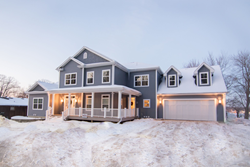 CHARLOTTESVILLE, Va. (PRWEB) October 16, 2018
Located lakefront in Cassopolis, MI, the two-story system-built Stone Lake Manor from Heritage Custom Builders and manufacturer Ritz-Craft has been named the 2018 Modular Home of the Year.
The sprawling 4,312 home uses every inch of its half-acre lot on the shore of Stone Lake. The six-bedroom and 4.5-bathroom home features an alluring 1,850 square feet walk-out lower level. Living, family and recreation spaces are ample, and the custom kitchen exudes luxury living. Mike Coeling of Heritage Custom Builders in Paw Paw, MI and Marshal Erb of Marshal Erb Design in Chicago, IL collaborated to create the original design. All seven sections were delivered on the same day. Construction was completed roughly 19 weeks after groundbreaking, not including the landscaping and pool.
The magnificent Stone Lake Manor represents the very best of the modular home industry for the year. "All the parties involved in this project displayed a high level of collaboration, you could not ask for better homeowners to work with, and our onsite team of craftsmen pulled all the finishes and details together," said Tim Cassidy or Heritage Custom Builders. "The fluidity of our Chief Architect design system and the efficiency of Ritz Craft modular construction, paired with the willingness and creativity of Marshal Erb Design, allowed us to make this beautiful home a reality."
The Modular Home of the Year is voted on by the public selected from the twelve prior Home of the Month winners. For more information on these awards and previous winners, check out: http://www.modularhome.org