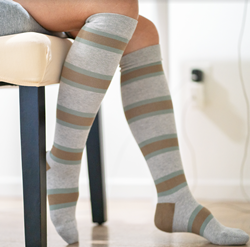 SANTA MONICA, Calif. (PRWEB) January 23, 2023
Knee high socks have seen an increase in popularity over the past few years. They're comfy, cute, and cozy - absolutely perfect for a lazy Sunday by oneself, or a cuddly rainy day with a furry-friend or a partner. As such, the popular compression sock brand, Comrad, is rolling out a knee-high sock that features a lot of the same construction technology and care that has made their other sock lines so popular among consumers all over the country.
The fully padded heel-and-toe is one of the first things to note about the knee-high trio-striped socks from Comrad. This padding makes these socks super comfortable and easy to wear all-day-long. Additionally, the knee-high trio striped socks from Comrad also feature their iconic 360 degree MicroBead Arch. This is a band of compression beads that wraps around the foot at the arch, which adds extra support and enhances comfort even further. All of this just to keep your feet cozy and comfy.
Finally, the seamless toe construction is the icing on the cake that makes the knee-high socks by Comrad truly ideal when it comes to foot-comfort. Comrad is proud of their knee-high-socks and extend their no-hole-guarantee to this newest addition to their line of socks as well. If these socks get a hole in them within the first month of wear, Comrad will send you a whole new pair completely free of charge.
They wouldn't be knee-high socks if they didn't come in fun colors and designs. The trio-stripe knee-high socks by Comrad come in a variety of color-schemes. There are currently three color schemes including; aqua-pink and blue, gray-aqua and beige, and blue-orange and white.
There's a great color-coordinated option for anyone and everyone!
###
About - For too long, compression socks have been misunderstood. Thought too ugly or too tight, ill-fitting and itchy. Reserved to be worn by the elderly or elite athletes. Comrad began as a way to disrupt these stereotypes to show that everyone can benefit from the power of compression to feel their best and conquer their day, every day. Comrad is also conscious of their impact on the planet. Their manufacturing facility has been family-owned and operated for over 20 years. Their packaging is produced by a vertically-integrated Bluesign systems partner, and 80% of all water used to dye their yarns is recycled using reverse osmosis.