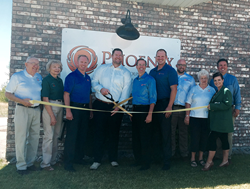 The Vernal location will offer the same services that are based on the same success factors of our Salt Lake facilities
Draper, Utah (PRWEB) August 12, 2015
The Phoenix Recovery & Counseling Centers, providers of individualized rehab treatment programs for individuals struggling with drug and alcohol addiction, announces the grand opening of their newest rehab facility located in Vernal Utah. A grand opening will be held Friday August 28th, 2015 between 4-7 PM at 1783 West 1000 South, Vernal, Utah.
The Phoenix Recovery & Counseling Centers new counseling center in Vernal recently celebrated their ribbon cutting with the Vernal chamber of commerce and the Vernal Mayor in attendance. This open house announcement invites the community to tour the office and take the opportunity to learn more about the Vernal drug and alcohol rehab services offered by The Phoenix Recovery & Counseling Centers. Complimentary snacks, and beverages will be available.
"We're very excited to open the new Vernal facility," stated Jake Shoff, President of The Phoenix Recovery & Counseling Centers. "The Vernal location will offer the same services that are based on the same success factors of our Salt Lake facilities. Success factors include tailored treatment programs, resolution of the root cause, comprehensive support, integration of the 12 step principles and life-skills training that create new pathways to personal achievement. Our proven success model begins with our qualified PhD licensed staff, as well as our incredible support staff, not only unmatched in their field, but also passionate about total behavioral health," Jake added. "We deeply care about each person we work with and that makes all the difference."
About The Phoenix Recovery & Counseling Centers:
Empowering individuals and families suffering from addiction, to celebrate life through lasting solutions. The Phoenix Recovery & Counseling Centers provides rehab patients with all the necessary tools to implement success and longevity in living a Happy, Sober and Productive life. They offer, through intensive treatment, the opportunity to "Rise above Addiction." The company's areas of specialization include treatment and recovery of substance abuse, addictions, dual diagnosis, co occurring disorders, drug and alcohol abuse and relapse prevention. Backed by a fully accredited team that includes PhD licensed mental health counselors, admission and program professionals. For testimonials or more information visit http://www.thephoenixrc.com or contact the company directly.
Contact Information:
Admissions 801-571-6798