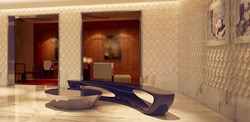 Providing guests and locals alike with an unrivaled sense of luxury, the Quin aims to be an urban oasis and was designed with the sophisticated traveler in mind.
New York, NY (PRWEB) February 10, 2014
The editors of Travel + Leisure present this honor only to the most exceptional new properties worldwide, and the Quin is just one of 4 New York City hotels featured in this collection of 72 properties internationally.
The Quin - A Central Park Hotel, which opened in November 2013, is located on the prominent corner of 57th and 6th Avenue in Midtown Manhattan, amidst New York City's top cultural, retail and dining destinations. A wide array of signature amenities and services, uniquely crafted to deliver the ideal cosmopolitan experience, characterize the Quin as the quintessential New York City Hotel. Providing guests and locals alike with an unrivaled sense of luxury, the Quin aims to be an urban oasis and was designed with the sophisticated traveler in mind.
The Quin features 208 guest rooms and suites and is furnished with the best-selling Fresh® Amenity Collection, in-room telephones with Bergdorf Goodman's Personal Shopping Department on speed dial, Dux® beds by Duxiana®, SFERRA® bedding and Provisions Cabinets stocked with artisanal snacks as well as stunning jewelry, candles and stationery marked by its signature scente, "Heritage." Additionally, the Quin features a chic American seafood restaurant, The Wayfarer, and Quin Arts, an innovative arts platform that honors the building's artistic heritage—inspiring guests with enriching creative programming and a unique venue for contemporary art. The Quin's concierge team, the Attachés, is comprised of expert lifestyle managers who create custom itineraries and grant guests exclusive access to events in NYC.
"The Quin is extremely honored to receive this prestigious recognition in the travel industry," said the Quin's General Manager, Holly Breuche. "We are deeply committed to delivering an unparalleled experience and are most appreciative of our staff—all of whom take great pride in upholding the Quin's extraordinary service."
Annually, Travel + Leisure editors and contributors log thousands of miles in order to evaluate the current year's most exciting hotel openings. Every hotel that is elected for this highly selective list is changing the travel landscape. The complete "It List" will be published in Travel + Leisure's March 2014 issue and can also be found on Travel + Leisure's Website as well as in the publication's digital editions. The social media hashtag for the It List will be #TL_ItList.
####
The Quin
The Quin - A Central Park Hotel, is New York City's newest luxury lifestyle hotel and is located on the corner of 57th Street and 6th Avenue. At the intersection of art, music, and fashion, its privileged Midtown location provides effortless access to Lincoln Center, Carnegie Hall, The Museum of Modern Art, and Fifth Avenue couture. The Quin melds modern opulence with its rich artistic heritage in each of its 208 thoughtfully appointed guest rooms including 28 suites. Guests relish in urbane and intelligent services, from the Attaché, who curate a guest's New York experience, to distinguished amenities like an Executive Boardroom for 10, state-of-the-art Technogym fitness center, Apple equipped drawing room, Dux® beds by Duxiana®, Fresh® Spa Products, and a 2-story, 130-seat artisanal American seafood grill, The Wayfarer, showcasing a menu of fresh regional seafood.
Quin Arts is an interactive arts program that celebrates the property's rich artistic heritage and produces exciting new platforms for contemporary artists. Renowned architecture and interior design firm, Perkins Eastman, has transposed a contemporary masterpiece on the classical foundation that was once home to cultural icons like pianist Ignacy Jan Paderewski and artist Georgia O'Keeffe. Resonating with refined repose, the Quin is the Quintessential Central Park Hotel.
Visit the Quin Website >
View the Quin's current offers >