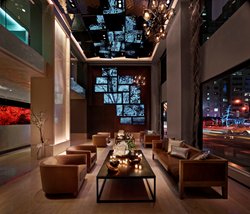 The 'Shakespeare in New York Experience' is offered under the aegis of Quin Arts, an innovative arts and culture program of the Quin Hotel - A Central Park Hotel.
New York, NY (PRWEB) May 28, 2014
The newly opened the Quin Hotel, located just 2 blocks from Central Park at 57th and Sixth Avenue, introduces their 'Shakespeare in New York' experience which includes a 3-night stay in a premier suite, 2 reserved seats at a performance of Much Ado About Nothing or King Lear (part of The Public Theater's 2014 Shakespeare in the Park season), and a complimentary Arden edition of the play, selected from the hotel's in-room "Mini-Bard." Much Ado About Nothing stars Hamish Linklater and Lily Rabe and runs from June 3rd to July 6th, while John Lithgow stars in King Lear from July 22nd through August 17th, 2014.
The 'Shakespeare in New York Experience' is offered under the aegis of Quin Arts, an innovative arts and culture program of the Quin Hotel. Quin Arts honors the rich history and artistic heritage of the original 1929 hotel on the site, now fully transformed, which hosted legendary artists and performers as residents for decades. Artists such as Marc Chagall and Georgia O'Keefe and performers including renowned bass-baritone Paul Schöffler and legendary soprano Renata Tebaldi prized the hotel's central location in the heart of Manhattan's cultural district.
Quin Arts enhances the hotel's creative programming by connecting guests with New York City's thriving cultural landscape. At the heart of this connection is the Qu'sin Hotel attaché – dedicated lifestyle curators empowered to offer special insider access to unique events such as 'Shakespeare in the Park'.
The Shakespeare in New York experience at the Quin Hotel is based on a 3-night minimum stay in a premier suite, double-occupancy, and is available starting at $1,000 per night*. Reservations are available by calling; 855-447-QUIN (7846) or on the Quin Hotel Website.
*subject to availability, blackout dates may apply.
About The Quin Hotel:
The Quin Hotel - a Central Park Hotel, is located on the corner of 57th Street and 6th Avenue. At the intersection of art, music, and fashion, its privileged Midtown location provides effortless access to Lincoln Center, Carnegie Hall, The Museum of Modern Art and Fifth Avenue couture. The Quin Hotel melds modern opulence with its rich artistic heritage in each of its 208 thoughtfully appointed guest rooms including 28 suites.
Guests enjoy urbane and intelligent services, from the Attaché, who curate a guest's New York experience, to distinguished amenities like an Executive Boardroom, state-of-the-art Technogym fitness center, Apple equipped drawing room, Dux® beds by Duxiana®, Fresh® Spa Products and a 2-story, 130-seat artisanal American seafood grill, The Wayfarer, showcasing a menu of fresh regional seafood. Quin Arts is an interactive arts program that celebrates the property's rich artistic heritage and produces exciting new platforms for contemporary artists. Renowned architecture and interior design firm, Perkins Eastman, has transposed a contemporary masterpiece on the classical foundation that was once home to cultural icons like pianist Ignacy Jan Paderewski and artist Georgia O'Keeffe. Resonating with refined repose, the Quin Hotel is the Quintessential Central Park Hotel.
Visit the Quin Hotel Website >
View the Quin Hotel's current offers >