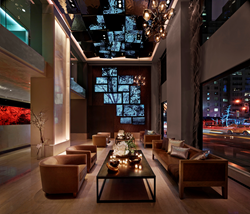 The Quin - a Central Park Hotel, was recognized for its Quin Arts program curated by DK Johnston of The Arts Fund....Quin Arts enriches the hotel's creative programming by connecting guests with New York City's thriving cultural landscape.
New York, NY (PRWEB) June 05, 2014
The Quin - a Central Park Hotel, was recognized for its Quin Arts program curated by DK Johnston of The Arts Fund. Winners will be announced at the Mondrian South Beach in Miami on June 9, 2014.
The LE Miami travel trade show is focused on the "collision of luxury and lifestyle" and is a catalyst for the next evolution of travel. The show is an annual forum that offers connections between buyers and leading lifestyle hotel brands and provides an inside track on the latest and most innovative developments in the market. The Awards seek to acknowledge lifestyle brands with "distaste for the conventional." The Quin was shortlisted along with brands including Andaz Global and EDITION Hotels, among others.
An innovative platform, Quin Arts enriches the hotel's creative programming by connecting guests with New York City's thriving cultural landscape. Quin Arts offers an ongoing series of culturally significant events, exhibitions, salons, lectures, film premieres, book debuts, musical performances and artist receptions. Visit the Quin Arts Website.
Quin Arts honors the artistic heritage of the original 1929 hotel on the site, now fully transformed, which hosted resident artists such as Georgia O'Keeffe and Marc Chagall, along with luminaries of the performing arts. Located in the heart of Manhattan's cultural district diagonally adjacent to Carnegie Hall and just blocks from Lincoln Center and The Museum of Modern Art, the Quin is New York City's newest luxury lifestyle hotel.
The Quin's General Manager, Holly Breuche, commented, "We're honored to be among the finalists for the 'Most Creative Collaboration' Award at LE Miami. This travel trade show has quickly earned stature as an incubator of new ideas, and we're pleased to be recognized for providing compelling programs and services to our guests."
DK Johnston of The Arts Fund added, "The arts are integral to the fabric of daily life in New York, and we're excited to collaborate with the Quin on programming that offers guests access to unique and inspiring experiences."
Elements of the Quin Arts program include:
Artist-In-Residence Program
The Quin has instituted the artist-in-residence program by designating several guestrooms in which artists can live, work and create. During their stay, participating artists create works of art inspired by New York City and the Quin. Each artist contributes works and mementos from their residency to the Quin's permanent collection. Popular street artist Nick Walker launched the artist-in-residence initiative, using intricate handmade stencils and spray paint to create experimental, abstract pieces. In April of 2014, photorealist painter Eric Zener became the second artist-in-residence at the Quin.
Fine Art Collection/In-Room Art
The Quin currently houses 18 original pieces by artists from around the world. Prominently positioned on the landing of each floor, the collection includes works by Blek le Rat, the Paris-based "godfather of street art;" YZ; Wulf Von Treu, "the German Basquiat;" and renowned Irish painter Patrick Graham. This collection now includes new work from Nick Walker and Eric Zener and will continue to grow with original works commissioned through Quin Arts' artist-in-residence program.
Artist Salons
The Quin hosts an ongoing series of artist salons in the Hotel's lobby, drawing room and Triplex Penthouse in which art enthusiasts in New York and guests from around the world have the unique opportunity to engage with the artists. The inaugural salon featured the work of photographers represented by Magnum Photos, including Burt Glinn, Erich Hartmann, Dennis Stock and Elliott Erwitt, alongside a new digital installation on the video art wall in the lobby. Recent salons have also included the work of Eric Zener, who unveiled a series of specially commissioned resins from his "Land," series, in addition to creating a stunning video installation.
Abstract Electronic Canvas
One of Quin Arts' most dramatic features is the 15-foot video art wall in the lobby. As an extension of an artist's exhibit or residency, the video art wall challenges the Quin's participating artists to create a new presentation of their original work in a dynamic format on a grand scale. These installations feature photography, short-limited motion video images and fine art representations crafted specifically for the Quin. Having transformed his signature wet collodion processed prints into a fluid digital display, filmmaker Robert Christian Malmberg was the first to have his works appear on the art wall.
About The Quin Hotel:
The Quin Hotel - a Central Park Hotel, is located on the corner of 57th Street and 6th Avenue. At the intersection of art, music, and fashion, its privileged Midtown location provides effortless access to Lincoln Center, Carnegie Hall, The Museum of Modern Art and Fifth Avenue couture. The Quin Hotel melds modern opulence with its rich artistic heritage in each of its 208 thoughtfully appointed guest rooms including 28 suites.
Guests enjoy urbane and intelligent services, from the Attaché, who curate a guest's New York experience, to distinguished amenities like an Executive Boardroom, state-of-the-art Technogym fitness center, Apple equipped drawing room, Dux® beds by Duxiana®, Fresh® Spa Products and a 2-story, 130-seat artisanal American seafood grill, The Wayfarer, showcasing a menu of fresh regional seafood. Quin Arts is an interactive arts program that celebrates the property's rich artistic heritage and produces exciting new platforms for contemporary artists. Renowned architecture and interior design firm, Perkins Eastman, has transposed a contemporary masterpiece on the classical foundation that was once home to cultural icons like pianist Ignacy Jan Paderewski and artist Georgia O'Keeffe. Resonating with refined repose, the Quin Hotel is the Quintessential Central Park Hotel.
Visit the Visit the Quin website.
View the Quin Hotel's current offers.
About DK Johnston
DK Johnston is a founding partner of The Arts Fund, a venture-capital fund that invests in music, art, film and the technology that connects arts and audiences. Founded in 2006 within the San Francisco Sentry Investment Group, Johnston has led investments in over 40 companies in the fine art and content space and more than 10 investments in underlying technologies enabling these creators to distribute and monetize their content.
Along with its creative agency, Term of Art, The Arts Fund is responsible for the creative and management of global initiatives including the street art competition, Red Bull Curates, Heineken's global Tiesto campaign, AOL Creation Station, Adidas Originals, and Gibson Guitars Showroom artist activations in Austin, Los Angeles and Miami, among others. As the lead partner for The Arts Fund's Concessionario, Johnston connects leading collectors and corporations with fine-art acquisition, liquidation and advisory services. Prior to The Arts Fund, Johnston was a technology entrepreneur, board member and venture capital investor in Silicon Valley, funding and growing successful standout companies such as UltraDNS, Jawbone and Azul Systems. He was also an early entrant in the deregulated telecommunications industry.