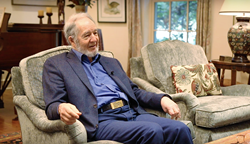 Dr. Greg Stone is the swashbuckling Indiana Jones of the Sea.
LOS ANGELES (PRWEB) June 13, 2019
Globally celebrated marine scientist, Dr. Greg Stone and Ocean Renaissance, debuted The Sea Has Many Voices podcast series which aims to engage a global audience in conversation about mankind's relationship to the ocean, and the current lack of balance between environmental conservation and modern industrialization.
Stone, who CNN dubbed "the swashbuckling Indiana Jones of the Sea," will discuss evolutionary biology by sustaining and protecting the world's oceans with international conservationists, scientists, and entertainers. The first season of guests include Pulitzer Prize-winning author and anthropologist Jared Diamond, professional surfer Kelly Slater, and environmental activist and TV host Philippe Cousteau Jr.
Listeners can find the trailer for The Sea Has Many Voices on theseahasmanyvoices.com. The first three episodes feature public intellectuals such as Ian Somerhalder, actor and co-executive producer of the series, and UN Ambassador for Environment; Ocean Ramsey, shark conservationist and free-diver; and marine artist, Wyland. Subsequent episodes will be released biweekly, and will be available on most podcast platforms, including Apple, Google, Spotify, SoundCloud, Stitcher and TuneIn.
The Sea Has Many Voices remains politically neutral and firmly rooted in scientific investigation and fact while providing an informed and passionate environment for discussion about ocean observations. The most recent podcast with Jared Diamond dives into a world of ocean discovery by island hopping in the Mediterranean and South Pacific, exploring origin of languages, map making, and customs as it's connected to the human relationship with the ocean.
"Greg Stone is the leading authority on the world's oceans, i.e. on most of the surface of our Planet Earth. He is also a great communicator, and a treasured friend," says Jared Diamond.
Tentative season two guests include National Geographic photographer Paul Nicklin, Conservation International Co-founder and Chairman Peter Seligmann, UN International Seabed Authority Secretary General Secretary Michael Lodge, National Geographic Explorer in Residence Dr. Enric Sala, Woods Hole Oceanographic Institute's Executive Vice President and Chief Scientist Dr. Larry Madin, Composer John Powell (How to Train Your Dragon, Solo: A Star Wars Story), Director of Norway's Institute of Polar and Climate Studies Dr. Jan-Gunner Winther, and SCRIPPS Institute of Oceanography underwater sound pollution acoustician Dr. Simone Baumann-Pickering.
ABOUT GREG STONE
Dr. Greg Stone, the former Chief Ocean Scientist at Conservation International, led the creation of PIPA, the world's first large scale Marine Protected Area in the nation of Kiribati, co-founded the Ocean Health Index, and served as chair of the World Economic Forum Oceans council. His fourth book, Soul of the Sea: In the Age of the Algorithm, reviews the effects of industrialization on the ocean and offers a manifesto for the future. The forward was written by the current UN Ocean Envoy and former President of the UN General Assembly.
ABOUT OCEAN RENAISSANCE
Ocean Renaissance is a collection of passionate scientists, economists, communicators, innovators, and designers that advise and work with businesses, governments, multilateral organizations, as well as tech startups and youth movements to promote, study and conserve the oceans. Ocean Renaissance also specializes in ocean technology and the Fourth Industrial Revolution. Ocean Renaissance seeks solutions to the biggest challenges facing our oceans.
Ocean Renaissance provides technical skills in oceanography, conservation and research, spatial planning, aquaculture, advanced diving technologies, robotics, submersibles and sensors. Ocean Renaissance also provides education, Pacific Island cultural expertise, film and podcast production services.