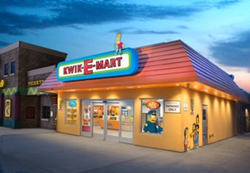 We are thrilled to bring The Simpsons to Myrtle Beach and to bring The Simpsons to life beyond the screen. We are creating a series of memorable moments enriched with tremendous detail throughout the attraction so that guests feel they are part of The Simpsons universe.
MYRTLE BEACH, S.C. (PRWEB) August 09, 2018
It's showtime! A new dimension of family fun hits Myrtle Beach with a first-of-its-kind attraction—The Simpsons in 4D. This all-new experience will feature Springfield's Kwik-E-Mart and Aztec Theater! Guests will rub elbows with the town's popular residents, including America's favorite family, The Simpsons.
The Kwik-E-Mart opens on August 17 at 10 a.m. Guests may visit the immersive, fully themed iconic convenience store, which sells a wide array of products including Buzz Cola, Heat-Lamp Hot Dogs, and Lard Lad Donuts. Guests can quench their thirst by choosing from a tasty selection of show-inspired Squishee flavors. In addition to these Springfield staples, the Kwik-E-Mart offers a variety of food and beverage options, as well as unique The Simpsons merchandise.
The Aztec Theater is set to premiere later this year. This ticketed attraction includes a fully themed lobby and theater experience rich with detail. Guests join Homer, Marge, Bart, Lisa, and the youngest Simpson, Maggie in a new 4D Experience® adventure.
Included in all tickets will be a Hollywood premiere-style souvenir photo for fans to share their own red carpet moment. After the 4D Experience®, guests are free to explore the famous Kwik-E-Mart.
The Simpsons in 4D was created in partnership with SimEx-Iwerks Entertainment, FoxNext Destinations and Gracie Films. "We are thrilled to bring The Simpsons to Myrtle Beach in a way that this incredible brand deserves," says Michael Needham, Founder and CEO, SimEx-Iwerks Entertainment. "Launching this experience will be the culmination of years of passionate effort to bring The Simpsons to life beyond the screen. We are creating a series of memorable moments enriched with tremendous detail throughout the attraction so that guests feel they are part of The Simpsons universe."
The Simpsons is the longest running primetime scripted television series and one of the most recognized brands in the world. Now producing its 30th season with more than 600 episodes, the characters have become household names and Springfield, a way of life.
Visit http://www.Simpsons4D.com for updates on Grand Opening festivities, tickets, special offers and promotions.
###
ABOUT SIMEX-IWERKS ENTERTAINMENT
SimEx-Iwerks Entertainment is headquartered in Toronto with offices in Los Angeles and Baltimore. SimEx-Iwerks specializes in designing, building and operating special F/X driven cinematic attractions that feature blockbuster content from the world's major film studios. It builds successful partnerships that provide 4D Experiences® films and services to over 150 attractions in more than 30 countries. SimEx-Iwerks family-friendly attractions provide memorable experiences to more than 50 million guests each year.
The Simpsons in 4D at Broadway at the Beach will be the first of many planned across the country over the next five years.
ABOUT FOXNEXT DESTINATIONS
FoxNext Destinations, a division of FoxNext, is developing themed entertainment destinations that immerse guests in the company's iconic film and TV brands. Current projects include 2017 THEA winner Springfield, USA and The Simpsons Ride, a 2009 THEA winner at Universal Studios Hollywood and Universal Orlando, Alien: Descent, a free-roaming VR experience, and Avatar: Discover Pandora, a new interactive exhibition. Other projects include FX's American Horror Story at Universal Studios' Halloween Horror Nights and the 20th Century Fox World theme park in Malaysia, currently in development.
ABOUT THE SIMPSONS
The longest-running primetime scripted show in television history, THE SIMPSONS exploded into a cultural phenomenon in 1990 and has remained one of the most groundbreaking and innovative entertainment franchises, recognizable throughout the world. Currently airing its record-annihilating 29th season, THE SIMPSONS has won 32 Emmy Awards, 34 Annie Awards, a 2017 People's Choice Award, was the first animated series to win a Peabody Award, and was nominated for an Academy Award in 2012 for the theatrical short "The Longest Daycare." The Simpsons Movie was a hit feature film, their mega-attraction The Simpsons Ride at Universal Studios has received historic expansion updates with the addition of 'Springfield'—winning a Thea Award in both 2009 and 2017. The show was honored with a Star on The Hollywood Walk of Fame in 2000. It has been named the "Best Show of the 20th Century" by Time Magazine, called the "Greatest American Sitcom" by Entertainment Weekly in 2013, and declared "The Best TV Show Ever" in 2016 by Vulture.com.  
THE SIMPSONS is a Gracie Films Production in association with 20th Century Fox Television. James L. Brooks, Matt Groening, and Al Jean are the Executive Producers. The Gracie Films Worldwide Brand Division develops and produces the licensed content for the series. Visit THE SIMPSONS website at simpsonsworld.com, "Like" the series on Facebook at facebook.com/TheSimpsons, follow Homer Simpson @HomerJSimpson and @TheSimpsons on Twitter. Join the conversation using #thesimpsons and follow The Simpsons on Instagram @TheSimpsons.
ABOUT BROADWAY AT THE BEACH
Broadway at the Beach is South Carolina's number one tourist, shopping, dining, and entertainment destination attracting millions of visitors annually. Broadway is set on 350 acres in the heart of Myrtle Beach and features world-class shopping, dining and entertainment in a series of magical, interconnected villages, surrounding the 23-acre Lake Broadway. Broadway's distinguished tenant mix has something for the whole family: popular attractions; outstanding restaurants and eateries; extraordinary specialty shops with national and local brands; and first-rate hotels. A past recipient of the South Carolina Governor's Cup, it was deemed the state's best travel destination by the South Carolina Department of Parks, Recreation & Tourism.