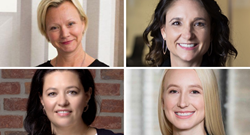 NEW YORK (PRWEB) May 29, 2019
The Software Report is pleased to announce the Top 25 Women Leaders in Tech Services and Consulting of 2019. These exceptional women have developed deep expertise in the technology field, some with distinct specialties, and have progressed rapidly to senior most levels within their organizations. Thousands of women were evaluated resulting in a select set being eligible for this year's process.
In tandem, we received hundreds of nominations and performed a more detailed review of each nominee based on a series of questions on the candidate's professional capabilities. The Software Report also conducted candidate evaluation based on research of qualified information sources and publicly available information. We looked for demonstrated technology expertise, longevity in the industry, career progression and current position among other factors.
It gives us great pleasure to recognize and celebrate the accomplishments of these deserving women.
Topping this year's list are Tamara Alairys, Principal at Ernst and Young, Karalee Close, Global Leader of the Technology Advantage practice at Boston Consulting Group, and Shally Stanley, Managing Director at Acumen Solutions. Notably, Shally began her career at McKinsey and transitioned to founding and building NetGain, which she sold to Greenwich Technology Partners. In her current role with Acumen Solutions, Shally advises prominent corporations on innovative information technologies and practices.
A few highly accomplished women warrant special mention. They include Heather Combs, the Chief Revenue Officer of 3Pillar Global, Elaina Shekhter, the CMO and Head of Strategy for EPAM, and Jo Masters, the CEO of Tquila ANZ. At 3Pillar, Heather created revenue acceleration strategies which led to sustained double digit growth for the company. For EPAM, Elaina has been instrumental to her organization's additional specialization in artificial intelligence and blockchain. And with Tquila ANZ, Jo Masters was the key driver to the company's tremendous growth in the last three years.
We congratulate each of this year's awardees. https://www.thesoftwarereport.com/top-25-women-leaders-in-tech-services-and-consulting-of-2019/.
About The Software Report
The Software Report is a comprehensive source for market research and insights, business news, investment activity and corporate actions related to the software sector. Based in New York City, the firm is run by a seasoned team of editors, writers and media professionals highly knowledgeable on software and the various companies, executives and investors that make up the sector. http://www.thesoftwarereport.com.