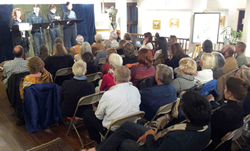 "Absolutely a standing O! It was great - all of you were wonderful. I laughed and cried all the way through it. Take another bow !" Linda McDill, President, NM chapter Women In Film
Santa Fe, NM (PRWEB) March 18, 2014
Another kind of 'spaceport" is emerging in New Mexico. This time it takes the form of a movable performance art center. The Space is the brainchild of Debrianna Mansini, conceived in the face of what some would see as an obstacle, but what Mansini saw as an opportunity. Faced with little affordable intimate performance space in the downtown area of Santa Fe, Mansini came up with an idea while sitting at Casweck Galleries, a Gallery she has directed for the last four years.
"The large open space, high ceilings and nice acoustics gave me pause one day. I thought to myself, I bet this could house 70 or so seats. And there is no one coming in here after five. And suddenly, the idea became real," she said.
Mansini , a professional actor herself, just returned from the Sundance Film Festival with "Drunktown's Finest," and is slated to play Georgia O'Keeffe in "Awakening In Taos" later this year. "It's important for actors to have a place to work their craft," she said. "Unlike visual artists, performers need that other element - the audience. I was on a mission to find it or create it. And what better place to perform than amongst the beauty of fine art?"
After discussing the possibilities with Casweck Galleries owner Athene Westergaard and approaching director Janet Davidson with the idea, it seemed like a perfect fit. The first event was connected to Art Matters|Santa Fe with the sold out reading of "Motherhood Out Loud." Mansini recently offered The Space to St. John's Church for a fundraiser when all the copper was stolen and they needed to raise funds for a new boiler. "We had a sax quartet and Charles Maynard's one man show and the place was packed, in the evening when no one would ordinarily be there. It was quite a success and a win-win for all of us," she said. Davidson is also excited by the possibilities. After the success of "Motherhood," she readily booked a reading of "Hearts of the West- Stories of the Mail Order Brides," and then three more shows through May.
Since the location of Casweck may change, Mansini realized a few things about her idea. "The idea of The Space itself is a commodity, not confined by four walls, the Space can be moved around and the performers can work in any space that is viable. It can exist anywhere and everywhere," she said. While on her mission early last year, Mansini says she ran into one of her teachers, the great Alan Arkin. When she told him they were looking for a theater, he said "Just do it." It looks she did just as her teacher suggested.
The Space works with Janet Davidson's professional company of For Giving actors, but as Mansini suggested, The Space can "contain" anyone from musicians to solo performers or screenplay readings.
Upcoming performances include:

The lineup for staged reading performances by For Giving Productions will be on April 4 & 5th at 7pm with "Rapture, Blister, Burn" by Gina Gionfriddo. Three generations of women and one man explore the women's movement. Intelligent, thought provoking and undeniably funny.
April 25 & 26th 7 pm, don't Miss Pulitzer Prize winner David Lindsay-Abaire's Kimberly Akimbo. NY Times called it the "Comedy of the Year." With Debrianna Mansini, Kelly Kiernan, Patrick Briggs, Ann Roylance and Jasper Keen. Directed by Janet Davidson.
May 9th and 10th at 7pm and 11th at 4pm - a special Mother's Day treat! Repeat performance of "Motherhood Out Loud." Join us afterwards with special guest Susan R. Rose (who along with Joan Stein conceived the project) for a Q&A afterwards.
For more information on our upcoming shows or to join our email list, click here.
Tickets $15 / $18 at door
Reserve early - seats are limited!
Casweck Galleries
203 W. Water Street
Downtown Santa Fe, NM
87501
505.438.6078
About Debrianna Mansini: Debrianna Mansini (represented by O Agency) is an actress who combines her talent with activism. She is deeply concerned with using the voice of her craft to shed light on women and social justice issues. Her NY roots and training live with her in New Mexico, her enchanted home base, along with her husband, accomplished artist David Forlano. http://www.debriannamansini.com