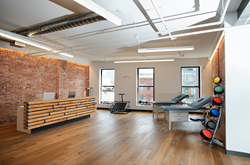 JERSEY CITY, N.J. (PRWEB) August 11, 2020
The Spine & Sports Health Center, an interventional pain management practice in Hudson County, NJ, recently relocated their Jersey City office to a new location. The new space complements The Spine & Sports Health Center's Hoboken and Bayonne locations in providing physician-led, personalized care and non-surgical orthopedic care to all of Northern NJ.
Located on Newark Avenue, the new office is less than a block from the Grove Street Path Station and a 10-minute walk from the Hudson-Bergen Light Rail stop at Marin Boulevard, making it convenient and easily accessible for patients throughout Hudson, Essex, Passaic, and Morris Counties, including Newark, East Orange, Clifton, and other local communities.
The board-certified physicians at The Spine & Sports Health Center treat all types of back, neck, and joint pain. The doctors specialize in designing personalized, minimally invasive treatment plans that take into account each patient's individual needs, lifestyles, and overall goals for relief and recovery. The new Jersey City office will provide patients with advanced, highly-targeted pain treatments, including:

The new location features over 5,000 square feet of space, 8 private exam rooms, ample room for physical therapy, a large front desk and waiting area, on-site laundry, and an on-site x-ray machine. Similar to the Hoboken location, the new Jersey City office has a modern, spacious aesthetic, with hardwood floors, exposed brick, large windows, and thoughtfully-curated decor.
Patients can access the new Jersey City office from the pedestrian walkway located at the intersection of Newark Avenue and Grove Street. The office is located on the third floor of the building, directly across from the elevators. Their hours are Monday to Friday, from 9 am to 7 pm.
In order to maintain the health and safety of their patients and staff during the COVID-19 pandemic, The Spine & Sports Health Center has implemented a number of advanced safety measures at the new Jersey City office, as well as at their existing Hoboken and Bayonne locations. These protocols include the strict use of PPE for all staff and patients, social distancing, hand washing, frequent sanitizing of waiting rooms and equipment, temperature checks, plastic screens at the front desks, telemedicine options, and more.
To learn more about The Spine & Sports Health Center's new Jersey City office or their services, visit their website http://www.spinesportshc.com or contact them directly at (201) 535-2474 to schedule an appointment.