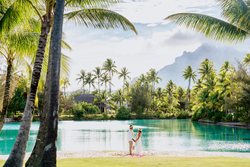 NEW YORK (PRWEB) September 21, 2021
In response to the popularity of smaller, more intimate weddings and elopements, the award-winning St. Regis Bora Bora is delighted to announce the launch of its new over-the-top Royal Estate Villa Wedding and French Polynesian Wedding, a mini micro-wedding for two.
From a luxuriously elaborate wedding at the resort's Royal Estate Villa, one of Bora Bora's most coveted addresses, to an elegantly simple barefoot-on-the-beach ceremony for two, The St. Regis Bora Bora's talented team of experts will work with each couple to personalize their special day and make their dream of a tropical island wedding come to life.
THE ROYAL ESTATE VILLA WEDDING
A Luxuriously Intimate Wedding Fit for a Royal at Bora Bora's Most Coveted Address

The Royal Estate Villa – a 5-night stay for up to 6 guests including breakfast daily in the privacy of your villa or Te Pahu restaurant
Wedding Planner - pre-arrival consultations to arrange every detail
Capture this event of a lifetime with a professional photographer and your choice of a videographer or drone package
Wedding Day Manicure & Pedicure for the Bride in the resort's Iridium Spa
Sunset Candlelight Couples Massage
Beachfront Rehearsal Dinner– a sumptuous and festive beachfront feast for up to six people under the stars on the Royal Estate Villa's private beach or the resort's main beach
Wedding Ceremony – the resort's wedding planner will assist with arrangements for a wedding officiant and the type of ceremony desired
Wedding Reception catered by Lagoon by Jean-Georges at the Royal Estate Villa or Lagoon by Jean-Georges Restaurant. Includes a three-course lunch or dinner for up to six people with a Caviar & Champagne Bar
Two hours of live music or a DJ
Traditional French Polynesian Fire Dance Performance
Champagne Sunset Sail for up to six people
Other wedding services include:
Steaming of wedding clothes
Two-hour hair & make-up session for the bride
Wedding cake
Wedding Arch
Bridal Bouquet & Groom's Boutonniere
Wedding night flower turndown
Newlywed amenities: a bottle of Billecart Salmon Champagne, Mr. & Mrs. towels, chocolate covered strawberries with fresh fruit & whipped cream
This offer's starting rate of USD 65,000 includes a five-night stay in the Royal Estate Villa for up to six guests and the above items. Additional guests, accommodations, activities and arrangements may be added at prevailing rates.
FRENCH POLYNESIAN WEDDING À DEUX
A Romantic Polynesian-Style Wedding For 'Just the Two of Us'
Overwater Villa – 5-night stay for two in an Overwater Villa
Wedding Planner - pre-arrival consultation to discuss every detail
Traditional Polynesian Wedding Ceremony on Spa Beach located on a small, romantic island in the resort's Lagoonarium with a view of Mount Otemanu - choose between an afternoon or sunset ceremony based on Polynesian customs with traditional Tahitian wedding symbols
French Polynesian Wedding Celebration Dance – after the wedding ceremony, in true Polynesian-style, the groom boards a canoe while the bride is taken to Main Beach to meet him for a wedding celebration dance performed by Polynesian dancers and musicians
This French Polynesian Wedding À Deux offer also includes:
Marriage Certificate made of Tapa, symbolizing wealth & prosperity. Tapa is a rare, ancient handmade fabric from the bark of the Marquises Island's paper mulberry, breadfruit, Ficus or fig tree. The certificate is presented by the priest when the couple is given their Tahitian names.
His & Her Red Pareos – sarong-like garments symbolizing the couple's union. Wedding pareos are often later used as a baby blanket.
Traditional Wedding Tifaifai – light material traditionally patterned with flowers is used in Polynesian wedding ceremonies to wrap around the couple to symbolize the creation of a new family. The wedding Tifaifai is often later used as a bedspread in the couples' home.
Water Seashell Purification Ceremony – the pouring of water from a seashell into the couple's hands cleanses them from the past for a new beginning
Auti Leaves – long tropical leaves tied around the couple's wrists symbolizing their new bond
Flower Crowns & Leis – representing sharing and harmony
Engraved Mother of Pearl Ring Holder – a St. Regis Bora Bora wedding tradition
Photographer/Videographer – wedding day photography for 2 hours and wedding day videographer for 1.5 hours
Wedding Night Dinner by Candlelight - under the stars beachside or on your villa terrace
This offer's starting rate of USD 12,000 includes a five-night stay in an Overwater Villa for one couple and the above items. Additional services, activities, guests and accommodations may be added at prevailing rates.
For more information about weddings at The St. Regis Bora Bora, contact Weddings Manager, Deborah Baron at bobxr.weddings@stregis.com. For booking, email reservations1@stregis.com.
About The St. Regis Bora Bora
This expansive 44-acre resort is a tropical paradise that combines Polynesian hospitality with St. Regis' renowned service. The 90-rooms are comprised of charming garden view villas, beachside villas and the largest overwater villas in the South Pacific. Guests are enchanted by Bora Bora's brilliant turquoise waters, pristine beaches and majestic views of Mount Otemanu. Lagoon by Jean Georges Restaurant, the Iridium Spa nestled on its own private island, St. Regis' signature Butler service and the resort's Lagoonarium flush with marine life are just some of the things that make this award-winning hideaway one of the world's leading luxury resorts.
About The Royal Estate Villa at The St. Regis Bora Bora
One of Bora Bora's most coveted addresses, The Royal Estate Villa is a 13,000 square foot compound with its own private beach showcasing tropical lagoon views. The estate houses 3 bedrooms, professional kitchen, office den, spacious outdoor terrace lounge and dining areas, solarium, private pool, and a master bedroom pavilion with sauna, whirlpool and steam room.
Link to images and video footage:
Click here to link to high resolution images of The St. Regis Bora Bora