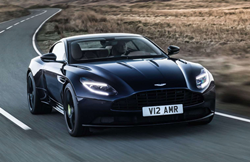 ST. LOUIS (PRWEB) June 16, 2020
With an elegant and sporty design, powerful engine options, numerous performance features, a driver-focused cockpit, and a plethora of state-of-the-art technologies, the 2020 Aston Martin DB11 is an outstanding choice for premium automotive shoppers. Holman Motorcars St. Louis, which is located at One Arnage Boulevard in St. Louis, now offers the 2020 Aston Martin DB11.
The 2020 Aston Martin DB11 has a beautiful exterior design, with its iconic grille, clamshell hood and sculpted profile. Inside the DB11, the cabin features high-quality craftsmanship, with a liberal use of premium materials. The full-color 12-inch TFT LCD display provides pertinent vehicle information, while a second 8-inch TFT screen is for the infotainment system. Buyers of the DB11 can enjoy a concert hall-like listening experience with either the Bang & Olufsen BeoSound System or the Aston Martin Premium Audio System.
The Aston Martin DB11 is very fun-to-drive, especially with its two robust engine options. The 4.0-liter twin-turbocharged V8 engine generates 503 horsepower and 675 pound-feet of torque, while the 5.2-liter twin-turbocharged V12 engine doles out 630 horsepower and 700 pound-feet of torque. The top-of-the-line DB11 AMR model can reach a top speed of 208 mph, with a zero to 60 mph time of just 3.5 seconds.
With the driver-selectable dynamic modes, the DB11 offers driving customization, with settings for Sport, Sport Plus and GT. With its adaptive damping system and advanced suspension, the DB11 provides excellent handling and a smooth ride. With its aerodynamic design, the DB11 can cut through the air with ease. Also, the DB11 utilizes an engine stop/start system, which maximizes efficiency by temporarily shutting off the engine when the vehicle is idling.
For more information about the Aston Martin DB11 and other luxury models at Holman Motorcars St. Louis, premium automotive shoppers can visit the dealership's website at http://www.stl.cars or call (636) 489-3788.