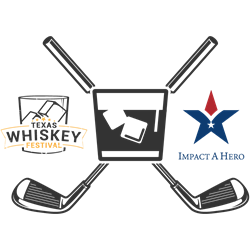 Events like Links & Drinks go a long way to helping us make a difference in the lives of combat wounded veterans.
HOUSTON (PRWEB) September 13, 2018
The Texas Whiskey Festival announced today that the upcoming Links & Drinks Golf Tournament – scheduled to take place Friday, October 5th at the Tour Eighteen Golf Course in Houston, will benefit the non-profit organization Impact a Hero, which provides support, opportunities and resources to wounded, post 9/11 combat veterans, their families and caregivers.
The Links & Drinks Golf Tournament is specifically designed for weekend "athletes" and whiskey enthusiasts who like having fun and giving back at the same time. Sponsored by several of the best distilleries in Texas (who also support the Texas Whiskey Festival), this four-man "shamble" format gives teams a competitive opportunity to slash their scores by sampling the Texas distilleries strategically aligned along the course.
Distilleries participating in the event so far include:

Garrison Brother Distilling
Balcones Distilling
Yellow Rose Distilling (In Houston)
Cotton Hollow Distilling
Devils River Whiskey
Andalusia Whiskey Co.
Black Feather Whiskey
The Tour Eighteen Golf Course is a "greatest-hits" collaboration that recreates the most famous holes in American golf.
"Imagine yourself playing some of the best golf courses in America while sampling the finest Texas Whiskeys, all to benefit our veterans," said Texas Whiskey Festival Co-founder Jake Clements.
"Events like Links & Drinks go a long way to helping us make a difference in the lives of combat wounded veterans," added Impact a Hero's Executive Director Mike Nasche. "After navigating the outdoor replica course, participants can enjoy great food and music, and spend time with some of our nation's veterans. We're looking forward to a fun day on October 5th."
To participate, and to support Impact a Hero, please visit Links and Drinks. Members of the media interested in participating are encouraged to contact media@txwhiskeyfest.com.
Date: October 5, 2018
Location: Tour Eighteen Golf Course, located at 3102 Farm-to-Market 1960 E, Humble, TX
Registration: starts at 12 PM
Shotgun Start: at 1:30 PM
Reception: from end-of-play until 9 PM, featuring food, awards, dueling pianos, and of course, more whiskey.
About the 2019 Texas Whiskey Festival (April 19th)
The mission of the festival is simple: To help promote and enhance the brands of the many great distilleries throughout Texas. Along with promotion, we want to educate whiskey lovers about the many top-of-the-line whiskeys being produced in our great state - and we're doing it all while having fun, drinking great whiskey, and building memorable experiences. As an organization, we know that Texas has some of the best distilleries and whiskeys in the world. The Texas Whiskey Festival is an opportunity to showcase that. For more information, please visit: https://txwhiskeyfest.com.
About Impact A Hero
Impact A Hero is a non-profit 501(c) (3) organization that provides immediate and ongoing support to our wounded and disabled post-9/11 combat veterans, their families, and caregivers. For more information about Impact A Hero, contact Laurel Goodroe at lgoodroe@impactahero.org