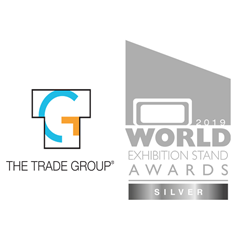 Says Hajra, "Receiving this award from the World Exhibition Stand Awards in its inaugural year means a great deal to us...we couldn't be more excited to receive international recognition. We look forward to celebrating this win with our friends at Facebook Gaming."
DALLAS (PRWEB) May 23, 2019
The Trade Group, a full-service event marketing and creative design firm, is pleased to announce that the company has been recognized for its efforts for Facebook Gaming's stand at the Thailand Games Show 2018. The stand received a Silver Award in the Best Stand at a Games Industry Event from the inaugural World Exhibition Stand Awards 2019.
The Facebook Gaming stand previously won the prestigious Best Exhibitor Award from the Thailand Games Show, where it was honored by a visit from the Prime Minister of Thailand. The stand was one of only two visited by the Prime Minister during the event.
Since launching in 2018, Facebook Gaming, the social media giant's live streaming platform and hub for gamers, has relied on The Trade Group for exhibit design, installation and onsite support for its gaming show efforts. The booth for Thailand Games Show was larger and more robust than previous stands. Highlights of the space included a large content stage, two creator corners for live streaming, four gaming stations, two Oculus virtual reality stations and more.
According to Neeshu Hajra, VP of Business Development at The Trade Group, "We were honored to design this award-winning exhibit for Facebook Gaming. The client really wanted to exceed fan expectations at the Thailand Games Show, and we were able to accomplish that with the custom exhibit we designed."
The Trade Group, which has been operating in the trade show and live event industry since 1986, also feels honored to be recognized on a global scale. Says Hajra, "Receiving this award from the World Exhibition Stand Awards in its inaugural year means a great deal to us. As an organization that supports clients at trade shows and gaming events all over the world, we couldn't be more excited to receive international recognition. We look forward to celebrating this win with our friends at Facebook Gaming."
To learn more about The Trade Group's exhibit design, gaming and live event solutions, call 800-343-2005 or visit http://www.thetradegroup.com.
About The Trade Group
The Trade Group is an award winning, full-service event marketing and creative design firm, specializing in trade shows, esports events and activations, corporate events, brand activations, retail merchandising, commercial graphics and experiential solutions. Since 1986, the company's team of live event, design and engineering experts has helped thousands of clients amplify their brands and successfully navigate a wide range of events and experiences. Clients rely on The Trade Group for: event ideation, creation and production; esports expertise; exhibit design and fabrication; graphic design and production; strategic marketing solutions; technology integration and more.