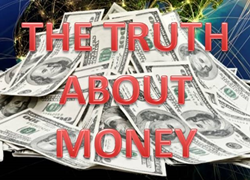 Money is not a mystery - you have what you need to start making money now!
EAGLE RIVER, Alaska (PRWEB) November 28, 2020
Scott F. Paradis proudly presents his newest audio program: "The Truth about Money" on Listenable.io.
Everyone wants money – more money – but very few people understand what money is or how money is made. For most people money is a mystery. For many it seems like an elusive adversary; something to worry about, struggle with and work endlessly to acquire.
"The Truth about Money" pulls back the curtain to reveal the secret: what money really is, what it isn't, and how to make money.
This concise, insightful program is specifically designed for people who have been struggling with or worrying about money. It's time to set them straight once and for all as they discover the truth about money.
This money audio program, comprised of eight segments for a total of 57 minutes, is distilled from Paradis' book: "MONEY, The New Science of Making It," updated for 2020.
The Listenable.io platform is a growing audio-education resource offering a wide variety of insightful and uplifting instructional programs for people of all interests. Listenable.io allows FREE access to the platform for seven days.
About the Program Producer: Scott F. Paradis is a leader, trainer, thought provoking author / producer and inspirational speaker. He completed a thirty-plus year career with the United States Army rising to the rank of colonel. He worked at the Pentagon and on Capitol Hill where he served as a Congressional Fellow with the United States Senate and also served as a National Security Fellow at Harvard University.
The author of nine books including: "MONEY, The New Science of Making It," "Sheep, Herders, Wolves – Why We Are Where We Are: A Modern American Fable" and "Explosive Leadership – The Ultimate Leader Training Experience," Paradis focuses on the fundamental principles of leadership and success to help motivated men and women reach their full potential.