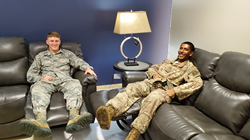 "This new furniture in the Shali USO Center allows us to provide no less than the very best services to our military and their family members." – Don Leingang
SEATTLE (PRWEB) August 08, 2019
La-Z-Boy Seattle has donated brand new La-Z-Boy furniture to the newly renovated USO's Shali Center. This newly renovated and furnished Shali Center will give military soldiers a more comfortable experience prior to deployment.
The 2,780 square-foot USO Shali Center is located at Joint Base Lewis-McChord in Washington. Before being deployed overseas for an extended period of time away from family, the USO Shali Center volunteers provide military soldiers with a last touch of USO hospitality. The services provided by volunteers include a meal and reading for their children through the Bob Hope Legacy Reading Program. Most importantly, the volunteers represent all Americans as they wish the deploying military members well wishes for safe travels.
La-Z-Boy Seattle has consistently shown support for the United States military. Almost three years ago, USO Northwest made an agreement with La-Z-Boy to never allow another deploying military member to sleep or sit on an uncomfortable chair. After already donating furniture to the Sea-Tac USO and Camp Lewis USO centers, this third donation is helping to make that agreement a reality. USO Northwest Executive Director, Commander Don Leingang, U.S. Navy (Retired) stated, "This new furniture in the Shali USO Center allows us to provide no less than the very best services to our military and their family members."
About the company:
La-Z-Boy Seattle is a licensee of La-Z-Boy Incorporated serving La-Z-Boy customers in Seattle and Western Washington. Each of La-Z-Boy Furniture Galleries have a wide variety of furniture available, including everything from recliners and sofas to lift chairs and home theater. Come in for a visit at one of the La-Z-Boy Seattle locations and choose from different styles and upholstery options for your La-Z-Boy leather sofa, sleep sofa or recliner.