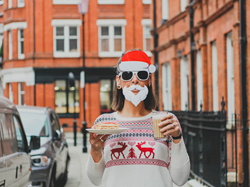 Givers invest themselves into everything they take on, whether that involves helping someone or striving towards a goal.
MONTREAL (PRWEB) December 19, 2018
If Santa Claus needed to get a day job for the rest of the 364 days of the year, it probably wouldn't be too difficult for him to find an occupation which fits his personality. Santa, like other people with a giving nature, is more than just a cheerful altruist. Research from PsychTests.com reveals that "givers" have a much more well-rounded personality extending beyond generosity, jolliness, and kindness. People with a giving nature possess a number of traits non-givers tend to lack.
Researchers at PsychTests contrasted the personality of 1,582 Givers and 1,543 Non-Givers who took their Big Five Personality Test. What they discovered was that Givers out-scored their counterparts on more than a dozen traits, including the following: (Note: Scores range on a scale from 0 to 100. The higher the score, the stronger the trait)
LIKEABILITY

Score for Givers: 73
Score for Non-Givers: 53
GENUINENESS/AUTHENTICITY

Score for Givers: 72
Score for Non-Givers: 57
DEPENDABILITY

Score for Givers: 84
Score for Non-Givers: 67
SELF-CONFIDENCE

Score for Givers: 71
Score for Non-Givers: 57
OPTIMISM

Score for Givers: 63
Score for Non-Givers: 51
ANGER MANAGEMENT

Score for Givers: 67
Score for Non-Givers: 53
WILLINGNESS TO COMPROMISE

Score for Givers: 62
Score for Non-Givers: 52
RESILIENCE

Score for Givers: 70
Score for Non-Givers: 57
ADAPTABILITY

Score for Givers: 65
Score for Non-Givers: 54
"Some givers come from a place of insecurity. They are over-compensating for a perceived lack of love, popularity, and belonging. They are giving to gain affection or favors," explains Dr. Jerabek, president of PsychTests. "However, for the most part, in order to give wholeheartedly - without attachment to the outcome and without expectations of payback - you need to have your act together. Truly altruistic people have a very multifaceted personality; it isn't just their kind-heartedness that defines them. They function on a "full tank"; they are full of self-love, self-respect, and confidence. From that space they can give fully to others. You need to have achieved a state of emotional maturity, security, and empathy in order to step into someone else's shoes and find a gift that will resonate with them. And we are not necessarily talking about material gifts. It could be giving acts of service, affection, or quality of time together. So, if you are strong enough to the point where you can rely on yourself to fulfill your needs, you have enough energy to love and to give. On the other hand, if you're running on an empty tank, you're in a mind-frame of lack. This is what leads people to be self-involved, selfish, and 'scroogey'."
Want to assess your personality? Check out https://testyourself.psychtests.com/testid/4059
Professional users can request a free demo for AMPM - R3 (Advanced Multidimensional Personality Matrix - 3rd Revision) or any other assessments from ARCH Profile's extensive battery: http://hrtests.archprofile.com/testdrive_gen_1
To learn more about psychological testing, download this free eBook: http://hrtests.archprofile.com/personality-tests-in-hr
To have these press releases delivered directly to your inbox, send us an email and we will add you to our mailing list: pressreleases(at)psychtests.com
About PsychTests AIM Inc.
PsychTests AIM Inc. originally appeared on the internet scene in 1996. Since its inception, it has become a pre-eminent provider of psychological assessment products and services to human resource personnel, therapists, academics, researchers and a host of other professionals around the world. PsychTests AIM Inc. staff is comprised of a dedicated team of psychologists, test developers, researchers, statisticians, writers, and artificial intelligence experts (see ARCHProfile.com). The company's research division, Plumeus Inc., is supported in part by Research and Development Tax Credit awarded by Industry Canada.