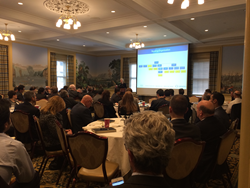 NEW YORK (PRWEB) October 11, 2018
The Wall Street Technology Association (WSTA®), a not-for-profit organization that provides Financial Industry professionals a forum to learn from and connect with each other, will host a seminar on "Changing Landscape for Continuous Application Integration" on October 18, 2018 in New York City. Speakers at this event include Keynote: Jason Malo, Senior Executive Advisor, Gartner; Premier Speaking Sponsor: Checkmarx; Luncheon Speaking Sponsor: Densify; Speaking Sponsor: Electric Cloud; and Platinum Sponsor: Pluralsight. For more information, please visit: https://www.wsta.org/events/event/changing-landscape-continuous-application-integration/
Seminar Description:
Lean. Agile. Moving at startup speed. That's the promise of adopting the DevOps methodology and related processes, including continuous integration and continuous delivery.
DevOps is an enabler to "shift left" principles, as it involves all stakeholders from Business and IT to own the outcome of their products. It ensures expedited delivery and iterative improvement. While enabling rapid adoptions, it also allows new business models and technology experiments to "fail fast." This fosters an environment where a firm gets an opportunity to market new products with rich user experience progressively to stay ahead of competitors.
DevOps tools enable continuous delivery and continuous integration, and enable collaboration on features, roadblocks, designs, workflows, configurations and quality management. These tools optimize how businesses participate, developers work and operations manage for continuous integration and delivery of systems. They provide windows of control for problem management, change management, service catalog management and knowledge management.
But making these tools work requires a culture change: incenting the new generation of workers, increasing their curiosity quotients, and creating a learning environment. DevOps also requires reorienting talent and resources for critical security and control functions. Are your legacy control processes including cloud provider due diligence, code assurance, and integration testing as fast and effective as your new release cycles? Many struggle to make this adjustment. This WSTA seminar highlights examples of successes, failures and lessons learned on the CI/CD journeys of the financial industry.
About the Wall Street Technology Association (http://www.wsta.org)
The WSTA facilitates educational and networking events where members meet and exchange ideas and best practices that assist them in effectively capitalizing on technology advances in areas such as Cybersecurity, Analytics, Internet of Things (IoT), Artificial Intelligence (AI), Machine Learning (ML), Data Management, Cloud, Blockchain, Digital, Architecture, etc. and dealing with financial industry business challenges. Founded in 1967, the WSTA is a not-for-profit association with a long history of evolving to meet the needs of its members.