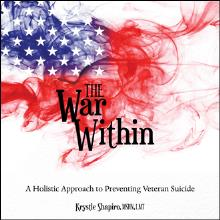 SANDPOINT, Idaho (PRWEB) November 15, 2018
Krystle Shapiro, MSHN, LMT, presents a holistic five-part nutrition and wellness program for helping soldiers and veterans who experienced chronic stress and have been exposed to toxic elements during deployment in her new psychology book, "The War Within: A Holistic Approach to Preventing Veteran Suicide" (published by LifeRich Publishing). The book is available for purchase at: https://www.amazon.com/War-Within-Holistic-Approach-Preventing-ebook/dp/B07J34TXJS.
Shapiro focuses on what happens to the human body and brain when toxic exposures diminish overall function creating the potential for serious illnesses and debilitating symptoms. The author believes understanding steps to overcoming ill-health can encourage soldiers and veterans to begin an effective healing process. Shapiro explains what each nutrient does to nourish, detox, and support all physical body and brain functions, and provides an easy-to-follow guideline for menu planning to optimally provide the essential nutrients for cell, tissue, organ, and muscle function.
"'The War Within' provides another way of addressing what happens in theaters of war and what an individual can do, whether the soldier/veteran, family member, or concerned community," Shapiro says. "With reported 20 soldiers and veterans committing suicide every day, it is paramount to inform them that my health recovery plan is available and can easily be incorporated along with any mental health program they undertake."
"The War Within"
By Krystle Shapiro, MSHN, LMT
Softcover | 8.5 x 8.5 in | 66 pages | ISBN 9781489719003
E-Book | 66 pages | ISBN 9781489718990
Available at Amazon and Barnes & Noble
About the Author
Krystle Shapiro, MSHN, LMT, is the daughter of a veteran Air Force lieutenant colonel who served in WWII and Korea. She graduated Summa cum laude with a master's degree in holistic nutrition from Hawthorn University in 2012. She is a licensed massage therapist and teaches kinesiology and pathology at North Idaho Massage Academy in Sandpoint, Idaho. Shapiro also offers nutrition education classes teaching how the body works and what the body needs so class participants can make effective nutrition decisions affecting their overall health and reach their desired goals.
LifeRich Publishing, the strategic publishing partnership of Reader's Digest and Author Solutions, LLC, was created to provide all writers a platform for sharing their stories, recipes, advice and more. LifeRich authors will benefit from a wealth of editorial design, marketing and education resources, specially created by Reader's Digest editors for the enrichment of these LifeSmart individuals. Books can be published in print, ebook or audio formats, with additional distribution to up to 25 million Reader's Digest customers through its online properties. Follow @LifeRichPub on Twitter or "Like" us at facebook.com/LifeRichPublishing for the latest updates.