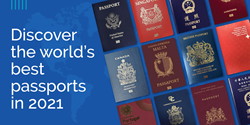 Where Can Your Passport Take You?
LONDON (PRWEB) October 22, 2021
Earlier today, Global Citizen Solutions announced the release of its Global Passport Index: a pioneering multi-factor ranking of the world's best passports developed by data analysts and considering mobility, investment, and quality of life indexes. The main aim of this new service is to provide an index of passport strength that truly considers all the benefits of their issuing countries, empowering people researching second-passport acquisition or investment migration with a full and clear picture of their options.
Patricia Casaburi, Managing Director at Global Citizen Solutions, says: "We wanted to empower our audience with the Global Passport Index. Anyone familiar with existing passport rankings will probably have noticed how they are often one-dimensional; emphasizing the number of visa-free travel opportunities, rather than the overall advantages a passport can provide. This is a problem because this limited approach can give the public a skewed perception of true passport strength, leading to missed opportunities which, in the context of potential migration and citizenship acquisition, can affect the trajectory of a person or family's entire lives."
As a welcome new solution, the Global Passport Index will enable visitors to expand their horizons, by discovering and evaluating countries that one might not have otherwise considered. Global Citizen Solutions chose to make this move so that not only our clients, but any individual could effortlessly identify passports according to the factors they value most: whether this is mobility, investment and/or quality of life.
Patricia Casaburi also says: "We wanted to make the migration research process easy for our audience. Therefore, we incorporated the know-how of many analysts into the creation of our ranking methodology. With the Global Passport Index, visitors can completely customize their search and passport rankings display, based on the factors they value most, and then compare any number of other nationalities with the results. We wanted them to feel a sense of clarity regarding their options, so that the right decisions on how to improve one's life circumstance can be made. Moving abroad or acquiring a nationality always entails some level of risk, but with the Global Passport Index at your fingertips, one can truly know what opportunities await."
The Global Passport Index was created by Global Citizen Solutions enlisting quantitative analysts with extensive experience in international organizations, analysing big data projects for the likes of UNESCO, OECD, and Inter-American Development Bank. Global Citizen Solutions is a boutique investment migration consultancy firm focused on finding the right residency or citizenship by investment program for individuals wishing to secure their future and become global citizens. Based on feedback and life experience from clients looking to invest or relocate, the team at Global Citizen Solutions realised it was time to develop a more holistic passport index, considering different walks of life. Since day one, the Global Citizen Solutions team has always aimed to provide bespoke residence and citizenship solutions to its customers world-wide.
The Global Passport Index is now live! To find out more about the service and Global Citizen Solutions, it's possible to visit https://www.globalcitizensolutions.com/how-to-measure-a-strong-passport/