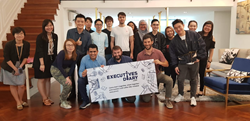 "Social learning is key. We provide an opportunity for you to network with like-minded, powerful individuals and senior level professionals, including CEO's and entrepreneurs!"
WILMINGTON, Del. (PRWEB) August 21, 2019
The Executives Diary magazine is here! It came into being on the 17 August 2019; and published more than 100 Diaries from top-notch executives on their home page.
Executives Diary is an online startup magazine, which features interviews with senior executives from all around the world. Most of their interviewees are from the United States. Executives Diary aims to spread knowledge and wisdom by sharing the life stories of seasoned professionals.
Founder and CEO, Muhammad Nauman, incorporated the company on 27 February 2018 in the state of Delaware in the United States.
Muhammad stated, "I enjoyed working on Executives Diary for almost two years. For a startup like this, the most difficult thing is to secure the first few hundred signups. I am happy to announce today we have published more than a hundred diaries, while another 200+ executives received their interview forms and are interested. Their journals will be released this month."
"Our vision for Executives Diary is to introduce a new way of learning. It's a platform for you, to expand your knowledge, level up your skillset, stay updated with the latest trends. With industry insights taught directly by senior-level executives and industry experts via their diaries and articles."
Muhammad went on to say, "Social learning is the key. We provide an opportunity for you to network with like-minded, powerful individuals and senior-level professionals, including CEO's and entrepreneurs!"
The CEO of Executives Diary further added, "From the idea to execution, the journey was so exciting. I networked with some great executives, and I am thankful for their encouraging response and valuable suggestions."
"Where we are today is also a great compliment to our team. Creating such a platform and bringing in hundreds of executive signups in such a short period is a great compliment to our small and dedicated team."
To create the platform, Muhammad Nauman worked alongside associate founder and editor, James Viney. James states, "Executives Diary provides great value for professionals, and this is the most knowledgeable community you'll ever be a part of."
James added, "Executives Diary publish the struggles and hardships that Executives face, the keys to their success and their advice to you. We do this so that you can achieve success in your chosen field."
About Executives Diary
Executives's reviews about Executives diary
Executives Diary is the ultimate online resource for executives offering a wide range of premium content. This platform provides a wide selection of custom curated interviews, informative articles and more.
Industry experts with a hard-hitting results-oriented style write the content. Executives Diary aims to publish valuable advice from industry leaders, inspire our readers, and keep them informed about the current trends in global business.