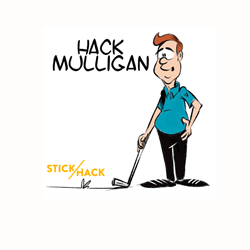 There are so many characters in our life and on the course, that most of our comics will write themselves
INDIANAPOLIS (PRWEB) June 29, 2020
Stick and Hack, the World's Greatest Golf Club, Without the Course, is thrilled to announce the official launch of their comic strip Hack Mulligan, which is an extension of their media driven golf platform and members community.
Hack Mulligan embodies those that love golf, laughter, and the absurdity of life in general, who have other obligations, responsibilities and hobbies and don't take the game of golf or themself too seriously. He is surrounded by a cast of characters, including his friend Stick Staton, and others from the club and work. The comic pulls from the everyday comedic norms in the game of golf and life.
After the creation of their successful podcast, website and social platforms, the idea of golf's only weekly comic strip was a natural progression. Millions of golfers and their families, friends and coworkers will relate to Hack Mulligan and see themselves through this entertaining 3-panel strip.
"There are so many characters in our life and on the course, that most of our comics will write themselves," said Adam Grubb, CEO and Executive Editor of Stick and Hack Media. "This is just one more exciting piece of the Stick and platform that we know will relate to those that see the funny side of this amazing game."
The Hack Mulligan Comic officially launched on June 26th, 2020. For more information on the comic or to become a free member of Stick and Hack, visit StickandHack.com.
About Stick and Hack
Stick and Hack is a golf media brand dedicated to telling the stories of golf and life, while sharing the humor and absurdity of this great game. It is the world's greatest golf club, without the course, and features a members community, podcasts, stories, videos, satire, and much more. For more information, visit http://www.stickandhack.com.