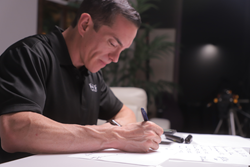 We've doubled student retention and more than quadrupled graduation rates so far, already beating some of the largest for-profit universities in the country.
LAS VEGAS (PRWEB) May 23, 2022
The world's leading online educational platform for current and aspiring entrepreneurs, ENTRE (http://www.entreinstitute.com) is proud to introduce ENTRE Unlimited™, the first virtual incubator of its kind that will close the access gap between students and the best experts in the industry.
"We've never been satisfied with what passes as 'education' in our market space," says Jeff Lerner, Chief Visionary Officer and ENTRE founder. "Our research has shown time and time again that students need a course of study that's more than a few videos and the occasional webinar. They need regular access to practicing experts, weekly live instruction, facilitated student communities, ranked competency-based progression, and more. So the question was really, how do you blend a traditional university experience with the freedom and speed of modern outcome-focused education? And how do you do it at scale at a price point that puts it in reach of a starting entrepreneur?"
Two years, millions of dollars later, and thanks in large part to the acquisition of some of the world's top PHD's, curriculum designers, learning technology specialists, and more, ENTRE Unlimited™ was born.
Some of ENTRE Unlimited's features include:

Unlimited access to over 250+ hours continuously updating curriculum across four professional "Paths"
Unlimited ranked weekly live instruction delivered by practicing industry experts
Success DNA™, the world's foremost entrepreneurial assessment tool that allows students to build a customized course of study based on their unique time horizon, risk tolerance, aptitudes, working style, personality, lifestyle goals and more
A competency-based Mastery Ranking system that measures not just what students know, but also their level of achieved business outcomes
Facilitated ranked community groups, each full of aspiring entrepreneurs who are creating life-long connections to other students who are on the same path
A dedicated VIP Concierge to guide each student through their entrepreneurial journey
A continuous selection of rotating 4-8 week Masterclasses taught live by premier guest instructors across the "3P's" - ENTRE's focus on holistic growth through physical, personal, and professional development
A Netflix-style library of growing content and replays unique to each user that grows automatically in size and value over time
According to Lerner, "our early results are fantastic. We've doubled student retention and more than quadrupled graduation rates so far, already beating some of the largest for-profit universities in the country. There is absolutely nothing in the market like it. We know this will provide a tremendous resource to our students as they transition from learners to entrepreneurs who are starting and now running their own businesses."
Founded in 2019, ENTRE recently landed on the Inc 5000 list after surging to a 889% year-over-year growth, benefiting in large part from the mass exodus of working professionals refusing to return to traditional employment as part of the "The Great Resignation," Entre now teaches over 7000 new students per month as it expands world-wide.
For more information on ENTRE, ENTRE Unlimited or to begin a course, visit http://www.entreinstitute.com. To stay up to date on the latest courses and offerings from ENTRE Institute, connect with them on Facebook (http://www.facebook.com/EntreInstitute) and Instagram (http://www.instagram.com/entreinstitute).