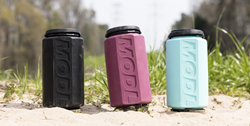 MODL breaks the mold as an adaptable tool that can be used in any situation – for uses far beyond the conventional water bottle.
ATLANTA (PRWEB) April 16, 2019
MODL, the original utility bottle with many functions that make it a must-have for any outdoor adventurer, is now available on Kickstarter.
"MODL is a multi-purpose utility bottle that can do more so you can do more," said MODL co-founder Barak Zitron. "Water bottles are a key adventure essential. However, unlike their counterparts, such as the utility knife, they remain one-dimensional and single purpose. MODL breaks the mold as an adaptable tool that can be used in any situation – for uses far beyond the conventional water bottle."
A reimagined take on hydration, MODL is:

Collapsible
Double-ended
Easy-to-clean & dishwasher-safe
Versatile and customizable with interchangeable attachments (MODs)
Easy to loop around anything such as a bike, backpack or branch with its detachable LifeLoops (no need for a carabiner)
BPA free, hygienic and hypoallergenic
33 ounces (1L) in volume
MODL's functionality is expanded with MODs – which are interchangeable attachments that bring unique abilities to the bottle. With MODs, MODL can be used for these functions:
'Rinse MOD' enables outdoor showers or rinsing off gear, hands, and four-legged explorers.
Takeaway: Replace your entire outdoor shower apparatus with the 1oz Rinse MOD.
'Flow MOD' allows for hands-free drinking while hiking, biking, relaxing in a hammock, etc.
Takeaway: All the pros of your hydration pack in the versatile form factor of a bottle.
'Pure MOD' allows users to purify water from any freshwater source, and is the only bottle on the market capable of both personal & group filtration.
Takeaway: The Pure MOD is there so you can carry less water, go further, and have peace of mind knowing you won't run out of water on the way.
'Go MOD' acts as a sports cap, allowing users to drink on the go without taking the lid off.
Takeaway: In the heat of activity, have quick and easy access to hydration with the Go MOD.
Some alternative uses for MODL include:
Collapsing into a bowl to give your dog water while on a hike (the dog only touches the external part of the bottle).
Using MODL as a 'fan' by adding the Rinse MODL and squeezing it to propel cool air.
Fill MODL with hot water to keep warm in a sleeping bag during cold temperatures.
Ultimately, the bottle's functionality is practically as limitless as the user's imagination.
Zitron, who developed MODL with fellow co-founders Zack Leitz and Justin Guld, says the idea came up during a camping trip as they neared the end of college.
"While on a camping trip, I threw out this wild idea," Zitron said. "We each lugged our heavy, clunky water bottles with us deep into the forest and up the mountain, and all they could do was hold water. We wanted a bottle that could do more than the traditional adventure essential, one that could match and enhance our adventure, so we embarked on our journey to create MODL – the first utility bottle."
For more information and to purchase MODL at an early-bird discount during crowdfunding, visit MODL's Campaign Page on Kickstarter.